The World Champion Red Sox Pivot to Meh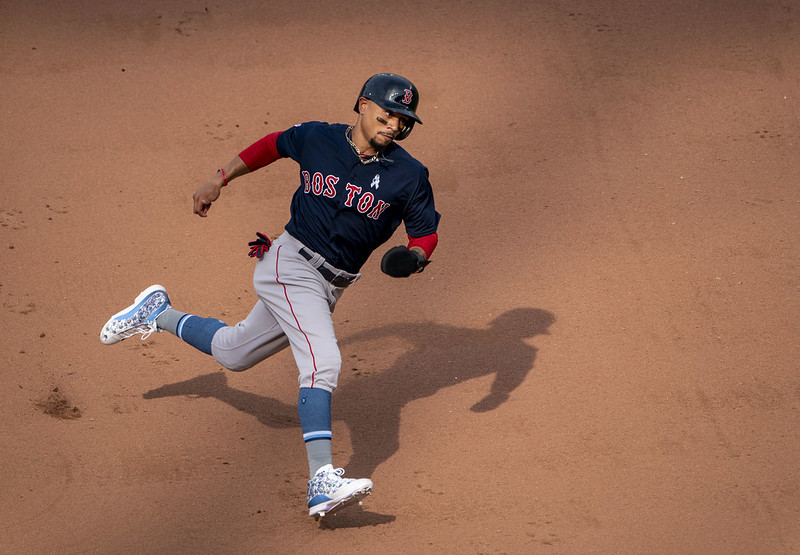 "Idleness is fatal only to the mediocre." – Albert Camus
The 2018 Boston Red Sox won 108 games and dominated the postseason, going 11-3 and winning the World Series. The 2019 Red Sox…did not. It's hard to call an 84-78 season an unmitigated disaster. Still, the Red Sox were out of the divisional race by June, resulting in president of baseball operations Dave Dombrowski getting his pink slip. Replacing Dombrowski is Chaim Bloom, poached from the Tampa Bay Rays, and a public mandate to get the payroll under the luxury tax threshold. Boston, perhaps more than any near-playoff team in 2019, faces an uncertain future.
The Setup
Winning the World Series is every team's (eventual) goal, and no matter what the Red Sox had done to follow-up on their big 2018 win, nobody was going to take down that flag. For the sequel, the Red Sox decided to go the route of keeping the band mostly together and hoping people would buy the Greatest Hits album. Whether or not it was due to excessive thrift — the Red Sox were safely over the luxury tax threshold — the team did little in the offseason aside from re-signing 2018 midseason acquisitions Nathan Eovaldi and Steve Pearce.
There's an argument to be made that a roster that wins 108 games one year ought to be at least a serious contender the following year without too many alterations. The danger of that argument, however, is that a team is far more likely to win 108 games when an excessive number of things go right than when the majority of things go sour. Boston's farm system wasn't likely to provide much in the way of reinforcements in 2019, making the cost of either inaction or losing players to free agency higher than it would be for teams with greater internal depth.
When it came to the bullpen, inaction would have been an upgrade. Boston's relief corps was far from the portable fire-starter of this year's champs, ranking 13th in WAR and sixth in FIP in 2018, but it wasn't a particularly deep group. The team let Craig Kimbrel and Joe Kelly go, something that 2019 hasn't exactly forced the organization to regret. Still, the Red Sox needed to replace those contributions somehow, as Kimbrel and Kelly combined from two of the bullpen's 4 WAR. But Boston didn't do any of that, instead opting to move the returning relievers up a place, a bit like Darth Vader did with empire personnel every time he lost his temper and force-choked a commanding officer.
The Projection
As someone from Baltimore who grew up rooting against the Yankees, it irked me a bit that even while the Red Sox were winning the World Series, ZiPS thought the Yankees were the better team. That pattern continued in 2019; ZiPS forecast the Red Sox to finish four games behind the Yankees at the start of the season. Of course, Boston's projected 94 wins were the fourth-most in baseball, so it's not as if the projection system's baseline expectation was a disappointing season.
There were, however, some troubling signs in the margins. The rotation projected for a more-than-healthy 18.1 WAR, but ZiPS also saw an enormous gulf after the front five starters. Beyond that group, ZiPS saw non-prospects Matthew Kent and Chandler Shepherd and journeyman reliever Ryan Weber as the team's best spare options, a troubling ranking considering the propensity pitchers have for breaking. ZiPS loved it some Mookie Betts but saw the team's lineup as top-heavy, and after Michael Chavis, was unimpressed with the offensive depth. ZiPS' mean projection for the team was four games worse than the Yankees, but its 10th percentile projection was 10 games worse, which was more a reflection the weakness of the "break glass in case of emergency options" than of the riskiness of the team's talent.
The Results
Boston started the season by dropping eight of 10 games, failing to win a series outright until they swept the Tampa Bay Rays in late April. Through the end of April, Red Sox starting pitchers posted a 4.73 FIP, better than the likes of teams such as the Orioles, but firmly in the bottom-third of the league. Chris Sale, Nathan Eovaldi, and Rick Porcello all struggled at the start of the season, enough for manager Alex Cora to use a six-man rotation for much of the first half in an attempt to give the starters more rest. Sale recovered somewhat as the season went on, though he never pitched at his usual level of awesomeness; a sore elbow ended his 2019 season early, but as of now, it looks like he has managed to avoid Tommy John surgery. David Price also bowed out early due to a cyst on his wrist that made throwing breaking pitches painful.
A roaring comeback never came for Porcello or Eovaldi. Porcello's ERA didn't dip below five after the midseason, and he likely only kept his spot in the rotation because of the various misfortunes of others. Eovaldi missed part of the season with sore biceps, and in order to facilitate a quicker return to action, Boston used him in relief for a spell.
As may have been expected given the team's lack of depth, once the rotation's Fab Five fell to ruin, the pitching picture was painted with a bleak palette. Outside Boston's planned 2019 rotation, the team's starting pitchers combined for a 6.79 ERA and 23 homers in 119.1 innings. The situation was dire enough that the team banked on Andrew Cashner being able to continue his surprisingly adequate 2019.
He didn't.
Things were a good deal brighter offensively. Dustin Pedroia was only able to make it into six games, but any contribution was notable. Betts and J.D. Martinez regressed somewhat from their 2018 seasons, but no more than ought to have been reasonably expected by an impartial observer.
Xander Bogaerts had his best season yet, hitting .309/.384/.555 for a 141 wRC+ and 6.8 WAR, with all of those numbers representing career-bests. The Red Sox are lucky they were able to ink Bogaerts to a contract extension in April, as he would certainly have been much more expensive this winter.
It wasn't all sunny, however. He wasn't the worst performer on the offense, but Andrew Benintendi was arguably the most disappointing one. In a season that saw 53 players hit 30 or more home runs, Benintendi failed to find another 15 long balls in his bat. He turned some of his liners into fly balls, but a more aggressive approach at the plate hurt his contact numbers more than it helped his bottom line offensive stats. Benintendi looked a lot more like the middle-of-the-pack starter of 2017 than the star-level performer of 2018. He just turned 25 this season, so there's still time, but as of this moment, I'd struggle to call him a player a team should build around.
In the end, the rotation's struggles were too much for the offense to overcome. Realistically, even giving Betts and Martinez their 2018 lines wouldn't have been enough to get the Sox to the playoffs.
What Comes Next?
This question is a pretty big matzah ball for the Red Sox (or whatever the Boston-equivalent of that Seinfeld colloquialism is). The Sox have expressed a public desire to get below the luxury tax threshold for the 2020 season. There's always the chance that this is a bluff, and that ownership is not really as obsessed with this idea as they're indicating, but it's a dangerous game to signal to your paying customers that the product is going to get worse soon.
I'm not sure how this goal can be achieved by just cutting fat here and there. RosterResource projects the Red Sox to be over the luxury tax threshold even if they do nothing this offseason. That means no free agent replacement for Porcello and no veteran signings, short of other moves giving them additional space with which to play. The team is likely to trade Jackie Bradley Jr. and is not-so-subtly shopping Betts. The obvious problem here is that the Red Sox don't have the in-house replacements to mitigate a JBJ loss, let alone Betts, who my colleague Ben Clemens just argued should not be traded. Betts will fetch real prospects, but if those theoretical prospects could effectively replace Betts in 2019, their current team would likely just play them instead of swapping them for the 2018 AL MVP.
Just as before the 2019 season, Eric Longenhagen and Kiley McDaniel have the Red Sox farm system last in future value. Triston Casas' first full professional season was enough to get his FV moved up to 50; the Red Sox didn't have a 50 FV prospect coming into the season, so that's something, I guess.
Chaim Bloom's charge with the Red Sox is to restock the farm system while not throwing in the towel on 2020 or 2021. It's going to be a challenge.
The Absitively, Posilutely, Way-Too-Early ZiPS Projection – Rafael Devers
Rafael Devers' 2018 line (.240/.298/.433, 90 wRC+, 1.0 WAR) was underwhelming on its face. But it shouldn't be forgotten that Devers was only 21 in 2018; any 21-year-old prospect who debuted with those numbers would have been hailed as a 2019 breakout candidate. That's just what Devers did, hitting .311/.361/.555 with 32 homers, 54 doubles, and a spine-tingling 5.9 WAR. Devers rose to elite territory in average exit velocity (16th in the majors), and there's still room in his swing to get more loft and turn some of those doubles into home runs. Devers is unlikely ever to be a serious Gold Glove candidate — I won't say never because of Marcus Semien — but he made great strides in his defense in 2019, cutting his errors by a third.
Devers is a legitimate star at the hot corner and should be a foundational player for the Red Sox over the next decade or so. Coming into 2019, ZiPS had Devers as the seventh ranked third baseman in terms of career WAR remaining, behind Vladimir Guerrero Jr., Jose Ramirez, Alex Bregman, Manny Machado, Matt Chapman, and Kris Bryant. That's a tough crowd to break into, but I would not be shocked to see Devers ascend into the top five.
ZiPS Projection – Rafael Devers
| Year | BA | OBP | SLG | AB | R | H | 2B | 3B | HR | RBI | BB | SO | SB | OPS+ | DR | WAR |
| --- | --- | --- | --- | --- | --- | --- | --- | --- | --- | --- | --- | --- | --- | --- | --- | --- |
| 2020 | .294 | .349 | .540 | 622 | 114 | 183 | 45 | 3 | 34 | 112 | 50 | 122 | 9 | 128 | -3 | 4.5 |
| 2021 | .296 | .353 | .557 | 609 | 114 | 180 | 46 | 4 | 35 | 114 | 52 | 122 | 8 | 133 | -3 | 4.8 |
| 2022 | .294 | .353 | .556 | 606 | 114 | 178 | 46 | 4 | 35 | 114 | 54 | 123 | 7 | 133 | -3 | 4.8 |
| 2023 | .292 | .354 | .560 | 602 | 114 | 176 | 45 | 4 | 36 | 114 | 56 | 124 | 7 | 135 | -3 | 4.8 |
| 2024 | .290 | .353 | .560 | 596 | 114 | 173 | 43 | 5 | 36 | 114 | 57 | 126 | 7 | 134 | -2 | 4.8 |
Devers' WAR obviously won't be quite this stable — this is a projection after all — but that's the forecast of a top third baseman.
Thanks to the Courtesy of :

https://blogs.fangraphs.com/the-world-champion-red-sox-pivot-to-meh/