Whose legacy will be most impacted by the 2019 NBA playoffs?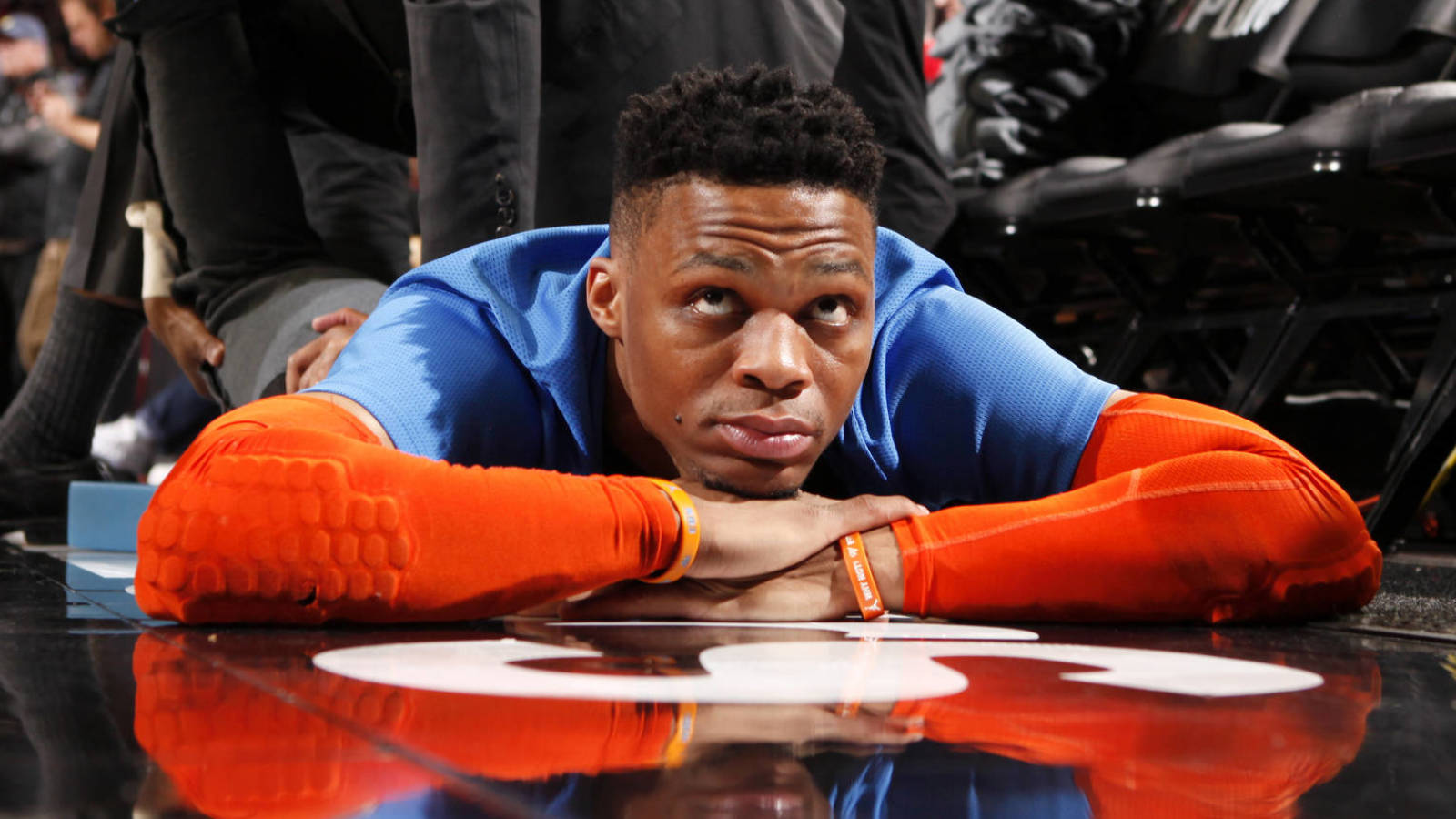 This time last year, LeBron James was adding to his legacy in a way that few imagined he could: burying multiple game-winning shots and dragging a subpar supporting cast to the Finals. While James watches the postseason from home, there have been and will continue to be plenty of opportunities for legacy-defining moments for the players, coaches and teams below. Take Damian "Logo" Lillard for example: A year ago, he had just been embarrassed by Jrue Holiday and the Pelicans in an ugly, 4-0 sweep. In a wonderful story of redemption, Lillard learned from his shortcomings and orchestrated an impressive 4-1 series victory over the trash-talking Thunder. Lillard, as you by now know, had one of the most memorable, legacy-defining games in the history of the first round, scoring 50 points and sinking a walk-off three-pointer from the logo. Will anyone be able to top that moment? Only time will tell.
Giannis Antetokounmpo: Know what I can't wait for? The endless hours of "Could Giannis be the GOAT?" debates that the talking heads are going to have over the next 15 years. I wonder if Skip Bayless and Shannon Sharpe have decided which of them is going to love him and which is going to hate him yet? I'm being facetious, but if Antetokounmpo leads the Bucks to a title in only his sixth season, we're going to find ourselves already debating the legacy of a 24-year-old who is just starting to hit his prime as a player. 
Winning the title this season is no small task, however. Antetokounmpo and the Bucks will have to go through a loaded Celtics team that is showing signs of having finally put it together. If the Bucks can survive that series and win their first real playoff battle, they'll have to take down another team with a disparity in talent — either the Raptors or 76ers — in the conference finals. From there, it'll be easy: Just dethrone the Warriors or defeat James Harden and the Rockets, who are playing as well as they ever have. It's quite the gauntlet, and Antetokounmpo will have earned the legacy talk if he can do it.
Also, Antetokounmpo's career arch will at least breathe some fresh air into the GOAT debate, as he hasn't taken the league by storm like Michael Jordan and James did, but instead, ascended to the top of the league faster than any player before him. On the other hand, if Antetokounmpo and the Bucks are upset by the Celtics in the second round, perhaps the talking heads start wondering whether he needs to go join other superstars to win a title? It's a wide variance for such a young superstar, but the Greek Freak should get used to the legacy talk from here on out — he's that good.
James Harden: During his seven seasons with the Rockets, Harden has averaged 29 points, eight rebounds and six assists per game. Winning a championship this season would put a bow around one of the best seven-year offensive runs in NBA history for him and place his career trajectory on the same plane as that of Dwyane Wade, Jerry West and, dare I say it, Kobe Bryant. It may sound like hyperbole, but former NBA players like Charles Barkley have started calling Harden the most unstoppable offensive player ever, especially with the hand-checking rules. Forget all qualifiers. If Harden wins a title this year, he has every right to call himself something else: the Best Player on the Planet. On the other end of the spectrum, if Harden falters in the second round against the Warriors, it'll be yet another year where he "runs out of gas in the playoffs when his team needed him the most." At least that's what his critics will say.
Joel Embiid and Ben Simmons:  Though it's relatively early in their respective careers and time together, Embiid and Simmons are the main cogs of a 76ers franchise that believes its championship window is open right now. While they were playing with found money last season when they were upset by the undermanned Celtics, things won't be as simple if they bow out in the second round this season. That's because the team made two "win-now" moves this season to bring in Jimmy Butler and Tobias Harris, both of whom happen to be free agents this summer. Still, Embiid and Simmons are in only their third and second seasons, respectively — what's the big rush with this legacy talk? Well, Embiid's health, which is a taboo subject around Philly, certainly brings about some urgency as his career might follow a Dwight Howard-type trajectory instead of a Hakeem Olajuwon one. If this season was already one of Embiid's prime years, then his legacy is absolutely on the line right now and we want to see something special this series against the Raptors.
Simmons wasn't originally part of this legacy list, but then Jared Dudley called him an "average player (in the half court)", and Simmons took his game to another level. He used the comical free-throw line defense to his advantage, utilizing the extra space as a runway to engage the defense with aggressive drives. He played with a different intensity on both ends. If this was some sort of turning point for Simmons, then we may witness him make The Leap against Toronto. Take your game to another level in the playoffs and your legacy benefits greatly — look no further than the quiet guy with the cornrows and huge hands on the opposite end of the court, Kawhi Leonard. He made life miserable for James and Wade in back-to-back Finals, and no one will ever forget it.
Golden State Warriors: Let's table the Durant free agency noise for a second here and talk about what's at stake in these playoffs for the Warriors. They could be the first team to three-peat since the Shaq-Kobe Lakers, and they could be the first team since the Bill Russell Celtics to win four out of five titles. For some of the secondary stars like Andre Iguodala and Draymond Green, a fourth title would almost certainly put them in the Hall of Fame. For Steph Curry, Kevin Durant and Klay Thompson, another title would move them up the all-time list of greatest players. Curry would start to get mentioned in the same breath as Magic Johnson and Larry Bird as a leader and culture-setter. Durant, especially if he wins a third-straight MVP, would be tied with James in titles and Finals MVPs with a seemingly longer prime remaining. I'm not saying he'd be in the GOAT conversation — I think he'd have to win a title on his own team — but the seeds for the argument would certainly be planted. On the other hand, anything but a championship would be considered a failure and be viewed in a similar vein as the 2016 loss to the Cavaliers.
Damian Lillard: Every so often, a future Hall of Fame player will have a series or run in the playoffs that reminds people to stop and appreciate how lucky we are to watch this player at the peak of his powers. That was Dirk Nowitzki in 2011. That is Lillard in 2019. No matter what Lillard does the rest of the playoffs, basketball fans will always remember the 50-piece and series-ending, walk-off 37-footer in Game 5 against the Thunder. It was the second series-ending walk-off in his career — there've been only five in NBA history!! Lillard was incredible all series, averaging 33 points and six assists on 48 percent shooting from three. He was a preposterous 8-of-12 on three-pointers between 30 and 40 feet in the series. And if all of that weren't enough, he stuck it to his trash-talking nemesis, Russell Westbrook, the entire series and backed up his now legendary statement to his family before Game 5: "I'm getting rid of these mother——- tomorrow." The story of basketball can't be told without Lillard at this point. He's all but guaranteed himself a spot in Springfield, and he's made a strong claim that he's one of the top seven or eight players in the NBA.
Russell Westbrook: Unfortunately, someone had to be on the other end of Lillard's masterpiece. While he certainly didn't back down from the challenge — retreating has never been Westbrook's modus operandi — he certainly didn't do his legacy or his post-Durant reputation any favors by shooting 32 percent from three and 36 percent from the field on 22 shot attempts per game while averaging nearly five turnovers. In his three post-Durant seasons, Westbrook has won only four playoff games.
More bad news: Unless GM Sam Presti can pull off some Harry Houdini-type salary cap magic, or [shudders] considers dealing Westbrook, the Thunder are stuck with this roster for the foreseeable future. Westbrook is a no-brainer Hall-of-Famer but appears to be careening into the Allen Iverson-Carmelo Anthony group of great players whose careers abruptly fell apart because they refused to adapt or take a secondary role. He can't continue to play this frenetic, inefficient style of basketball as his athleticism wanes. He can't jack up 36 field-goal attempts in every elimination game. (That's how many shots he's averaged his last three closeout games.)  There's still time for Russ to adjust his game a la Jason Kidd late in his career — perhaps someone should stress to Russ that the definition of insanity is doing the same thing over and over again and expecting different results.
Bonus: Doc Rivers, Lou Williams and Montrezl Harrell: The Clippers have absolutely no business winning two games in Oracle Arena and still being alive in these playoffs. None whatsoever. Yet behind some brilliant coaching by Doc Rivers and some of the best pick-and-roll plays you'll ever see involving Lou Williams and Montrezl Harrell, the Clippers have forced the Warriors to do something they're unaccustomed to doing in the first round of the playoffs: try. While it's highly unlikely that they can force a Game 7 and really make Warriors fans sweat, if they do, it will elevate this Clippers team to the cult status of the Baron Davis-era "We Believe" Warriors in NBA lore. Rivers would further cement himself as a legendary head coach, and Williams and Harrell would be remembered as the microwave duo off the bench who nearly ended the dynasty of the most talented team in NBA history. I'm not going to go there because I think this series ends in Game 6, but just try to imagine, for a second, a world where the Warriors blow a 3-1 lead to an eight seed. Inject #NBATwitter into my veins all day if that happens.