Report: Mets, Phillies drama started over 'unwritten rule' with baserunning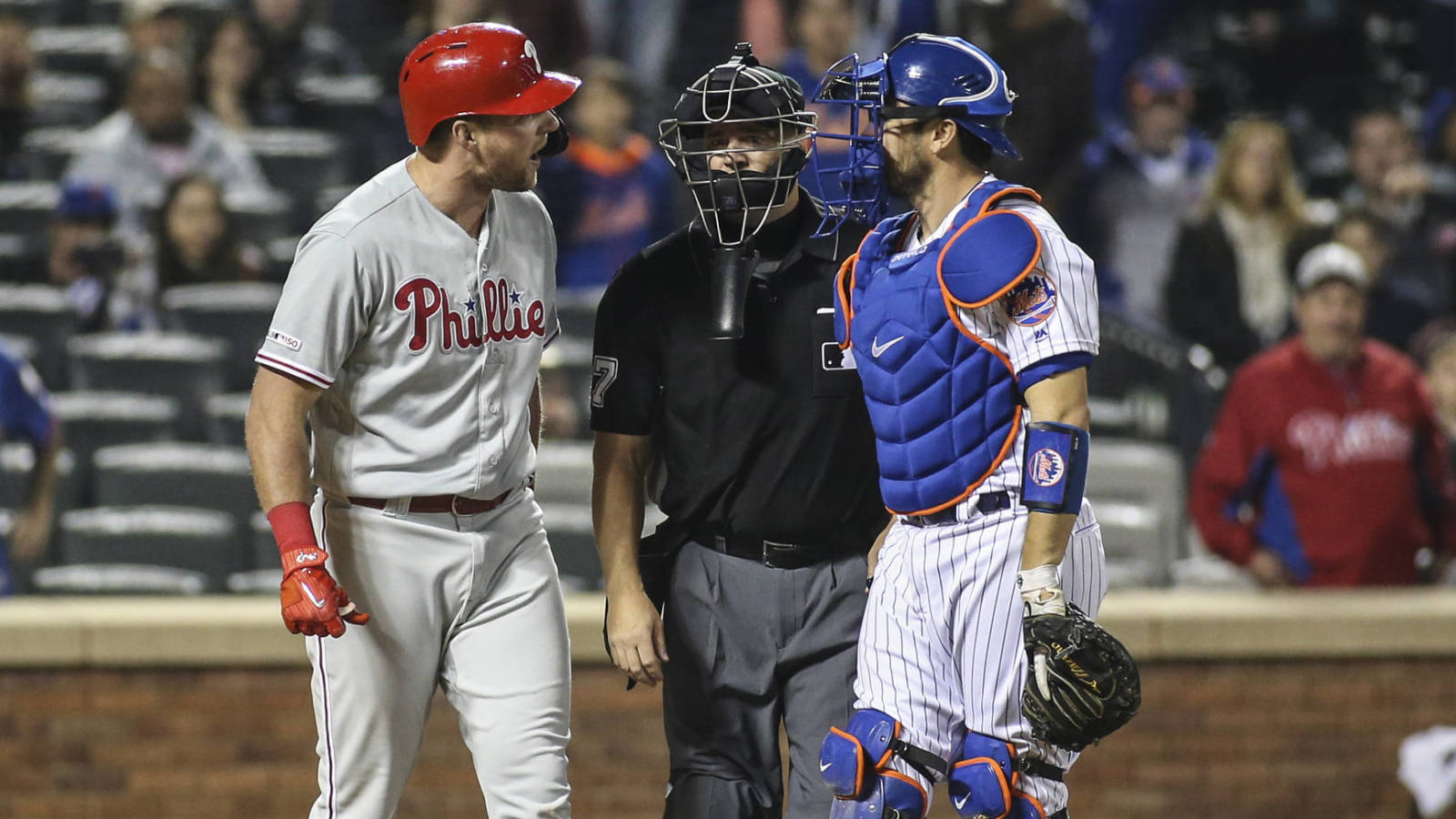 The Philadelphia Phillies and New York Mets appear to have renewed their rivalry this season, and the bad blood between the two teams came to a head Wednesday night when Rhys Hoskins celebrated a ninth-inning home run with the longest trot around the bases we have seen this season. That looked like a direct response to Mets reliever Jacob Rhame throwing close to Hoskins' head the night before, but there may have been a lot more to it than that.
Tim Britton and Matt Gelb of The Athletic spoke with several players on both sides, and they learned that frustrations began to build when Phillies catcher JT Realmuto tried to steal second (the pitch was fouled off) with Philly trailing by eight in the sixth inning Tuesday night. Mets first baseman Pete Alonso had not bothered to hold Realmuto on at first, and apparently players on the New York side felt the Phillies should not have run since the game was out of hand.
In the bottom of the inning, the Mets responded by having Juan Lagares run on the first pitch after he reached first base. Robinson Cano singled, and Lagares went first to third on the play. With the Mets leading by eight runs, Hoskins was seen asking Cano, "What's he doing?" in reference to Lagares running with the pitch. Three innings later, Rhame threw near Hoskins' head.
To summarize, the Mets felt the Phillies should have waved the white flag rather than trying to steal a base down eight runs in the sixth. People on the Philly side felt the Mets should not have run with such a big lead, but one New York player said it was a direct response to what the Phillies did.
"They did it first," the Met told The Athletic. "They broke the unwritten rule."
Phillies players and coaches said privately that the situation is much different for the team that is trailing. A couple of Mets players even admitted they had no problem with the Phillies running, especially with four innings left and a high-powered offense that has the ability to score runs in bunches.
The whole thing sounds silly, and it probably has more to do with two teams that don't like each other very much. Rhame took the high road after Hoskins' mind-boggling home run trot, but Philly and New York will meet another 13 times in the regular season. It would not be a surprise if there are more fireworks.