10 reasons Jason Kidd isn't a good fit for the Lakers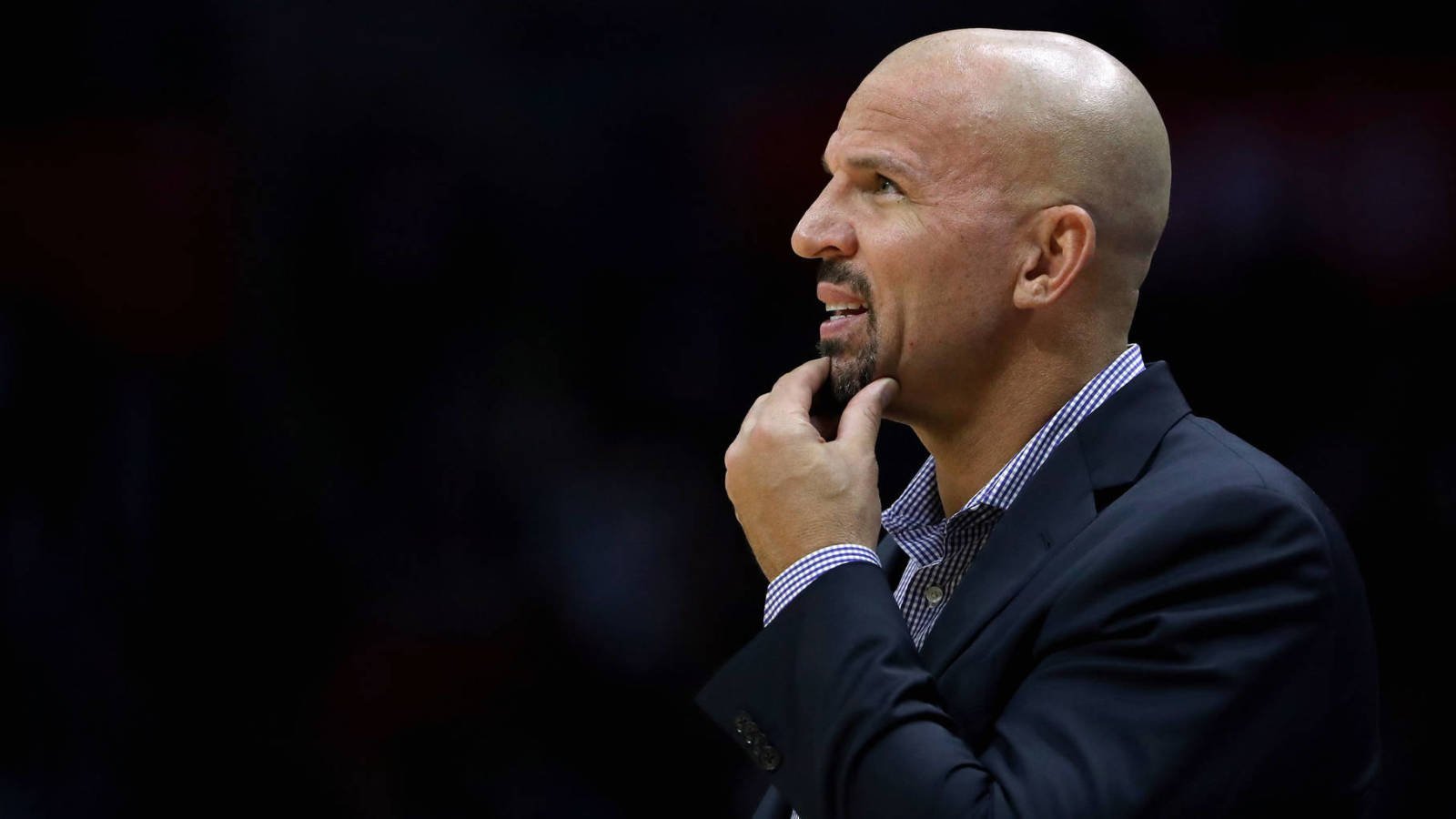 After Luke Walton's firing mutual parting of ways with the Lakers, the team is looking for a new coach, and one of the leading candidates is Hall of Fame point guard Jason Kidd. 
The former coach of the Milwaukee Bucks and Brooklyn Nets, Kidd is one of the few potential coaches with more assists than former Lakers president Magic Johnson. He's also friends with LeBron from their time playing together on the Olympic team and in All-Star Games and is famous enough to draw media attention from King James. But is Kidd really the answer for the beleaguered Lakers, who haven't won a playoff game since 2012? We don't think so, and we have 10 reasons why.
Great players don't often make great coaches. There's exactly one former MVP who's also won Coach of the Year, and his name is Larry Bird. Only three people have made the Hall of Fame as a coach and a player: Bill Sharman, Tommy Heinsohn and Lenny Wilkens. Don Nelson, the NBA's leader in coaching wins, never made an All-Star team, Warriors coach Steve Kerr started only 30 games in his career and the Spurs' Gregg Popovich never played in the NBA. Meanwhile, Magic Johnson, Isiah Thomas, Kevin McHale and other stars have washed out as head coaches. All things being equal, you're better off with a coach who kind of sucked as a player. It might be that great players have trouble explaining how  they're great. Is Kidd going to teach someone else to have his court vision or move faster dribbling than some guys do running?
When Kidd leaves, teams don't miss him. The Bucks were a bottom-12 defense in Kidd's last three years as coach, yet this season under Mike Budenholzer, Milwaukee has the league's best defensive rating and a Defensive Player of the Year candidate in Giannis Antetokounmpo, an All-Star under Kidd and now the MVP favorite. When a team improves dramatically after dismissing a coach, it doesn't reflect well on the fired coach. Just ask Mark Jackson. Kidd spent only the 2013-2014 season coaching in Brooklyn, which had given up multiple first-round picks for Paul Pierce and Kevin Garnett. The trade was a disaster for Brooklyn, particularly when Pierce left for the Wizards because he hated playing for Kidd.
Kidd isn't a modern strategist. Kidd's defensive scheme in Milwaukee involved blitzing ball-handlers, forcing extra passes and attempting to force turnovers. This ultra-aggressive style did result in shots late in the clock but at the expense of giving up open shots at the rim and undefended corner threes, which is exactly the opposite of what analytics would recommend. Despite his own career as a masterful fast-break general and despite having Giannis and a roster full of long-limbed athletes, Kidd's Bucks were routinely one of the NBA's slowest-paced teams. This year, the 60-win Bucks were the second-fastest team in the league.
Kidd's not a true Laker . It shouldn't matter that Kidd never played for the Los Angeles Lakers, but to the organization and fans, it seems like it does. That's why Brian Shaw is a perpetual head coaching candidate in L.A., why Byron Scott was hired in 2014 and why Kurt Rambis' wife, Linda, is running the team. Yes, Kobe demanded the Lakers trade Andrew Bynum for Kidd in 2007, but that doesn't make him a real Laker. If Kidd gets hired, fans will start defacing J. Kidd murals out of their love of Phil Jackson.
Jason Kidd is the kind of guy "GM LeBron" brings in as a player. LeBron James will tolerate young players for a little while, as long as they're Kyrie Irving or a Klutch Sports client. But LBJ prefers playing with older players who know their roles and don't mind waiting at the three-point line while The King goes to work. Ideally those players are above 30, shoot threes and were elite Eastern Conference players in the mid-2000s. Ray Allen, Mike Miller, Richard Jefferson, even last year's washed-up version of Dwyane Wade — they're all veterans who fit that mold, and LeBron lobbied countless GMs to acquire them. If Kidd gets hired, watch the Lakers sign Jameer Nelson and try to coax Joe Johnson out of retirement.
His soda-spilling tricks won't work in LA. During a game in 2013, Kidd told Tyshawn Taylor to bump into him and spill his soda so that officials would have to stop the game for cleanup despite the Nets having used all their timeouts. That's not going to work in health-conscious Los Angeles. Maybe Kidd could spill a can of LaCroix sparkling water or a $22 organic green juice on the court, but not a Diet Coke.
He won't be able to take advantage of Hollywood. One of the bonuses of working for the Lakers is the access to the entertainment industry. Shaquille O'Neal made classic films such as "Kazaam" and "Freddy Got Fingered" after signing in L.A., plus two hip-hop albums, and Kobe Bryant somehow won an Oscar for Best Animated Film after retiring. But based on his performance in "Like Mike," where he's out-acted by Lil Bow Wow and Dirk Nowitzki, and his debut rap song, "What The Kidd Did," where Kidd raps, "every day, my name in the Campanile/J Kidd kicking ass like Jim Kelly," Kidd can't expect to have a Hollywood career.
The Lakers don't fit Kidd's coaching skill set. In his coaching career, Kidd has had the most success with old guys and point guards. He rescued the career of Shaun Livingston by getting him to work in the post, Alan Anderson enjoyed a career resurgence in Brooklyn and Malcolm Brogdon won Rookie of the Year under Kidd. Maybe the former "Ason" (he had no J) can help Lonzo learn to make an open three?
Toni Braxton goes to Los Angeles a lot. We may never know exactly what happened among Kidd, Jim Jackson and Toni Braxton back when Kidd and Jackson were teammates in Dallas, but it's clear that something broke up the Jason and Jimmy partnership. While seven-time Grammy Award winner Braxton lives in Atlanta, she frequents L.A. for work. You could feel confident that Kidd wouldn't run into Braxton in Milwaukee, but L.A. is a different story. No one will be able to breathe easily, or again, if Kidd is prepared to jeopardize it all with Ms. Braxton.
Working with LeBron ages everyone. Looking at photos of former Cavs coach Tyronn Lue from just three years ago is shocking. Before he was LeBron's coach, he had no gray in his hair,and he looked young and healthy. In less than three seasons with LeBron, he aged at least a decade, developing an anxiety disorder and getting hospitalized. Teammate Kevin Love started having panic attacks, and former coach David Blatt fled the country after his LeBron experience. Kidd already had to step away from the Bucks for hip surgery. Can his body take the strain of dealing with the LeBron and  the L.A. media?