The KBO Appears to Be De-Juicing Its Baseballs
The 2019 KBO baseballs (Photo: Sung Min Kim)
Last year, Rob Arthur and Tim Dix of FiveThirtyEight helped to reveal to the masses that the core of the major league baseball had changed, reducing the air drag and resulting in the ball traveling farther in the air. Ever since then, the ball has been a recurring topic of conversation, including here at FanGraphs. The subject got a re-boot earlier this month when Arthur, writing for Baseball Prospectus, concluded that there's less drag on the batted balls hit in the 2019 season, which has led to more speculation that the league has "juiced" the ball.
While it is fun to see more dingers and harder hit batted balls, there's something to be said about how the league may or may not have deliberately manipulated the ball to make it happen. It's fun to see players like Aaron Judge have a 50-homer season in his rookie campaign or to watch Giancarlo Stanton flirt with a 60-homer mark on the way to earning an MVP award, but fans may question how "authentic" those feats are compared to the pre-juiced ball days, though it's worth noting that the liveliness of the ball has changed throughout baseball's history.
Here in Korea, there's been an opposite trend. Prior to the start of the 2019 season, it was reported that the Korean Baseball Organization (KBO) would decrease the coefficient of restitution (COR) value in their baseball. To put it in layman's terms, the higher the COR number is, the further the ball travels from the impact of the bat. Last year, the KBO allowed baseball COR values between .4134 and .4374. To put that in contrast, Nippon Professional Baseball (NPB) in Japan allows it to be between .4034 and .4234; MLB allows between .3860 and .4005. The KBO decided to lower it to the NPB's Mizuno baseball level of between .4034 and .4234. There's a reason for such a change. If you've followed the KBO for awhile, you know that the league has been quite hitter-friendly for the past few years. Here's how hitters fared in the three seasons prior to 2019:
2016-18 KBO Offensive Numbers
| | BA | OBP | SLG | OPS | wOBA | BABIP |
| --- | --- | --- | --- | --- | --- | --- |
| 2016 | .290 | .364 | .437 | .801 | .359 | .331 |
| 2017 | .286 | .353 | .438 | .791 | 0.348 | 0.327 |
| 2018 | .286 | .353 | .450 | .803 | .349 | .329 |
SOURCE: Statiz
To give you an idea how hitter-friendly an environment it was, MLB hitters slashed .248/.318/.409 overall in 2018. The recent baseball change is not the first time the KBO has attempted to curb its high-offense environment. In 2017, they increased the length of the strike zone, which I wrote about during my residency last year. It had an effect, but not really a lasting one. The umpires struggled to maintain consistency with the zone and the hitters adjusted well enough to keep up the league's high-offense reputation.
So far this season, the league has seen a noticeable shift in its overall numbers. There's an obvious small sample size caveat here, but the figures have been different enough to start a conversation. Here's how the hitters have fared in 2019, in contrast to the first few weeks from the 2018 season:
2018 vs. 2019 KBO offensive numbers
| | BA | OBP | SLG | OPS | BABIP | HR% | ISO |
| --- | --- | --- | --- | --- | --- | --- | --- |
| 2018 (March & April) | .278 | .347 | .435 | .783 | .326 | 2.89 | .157 |
| 2019 | .264 | .342 | .391 | .733 | .313 | 2.04 | .127 |
SOURCE: Statiz
As you can see, there's a clear downward trend to overall offensive production, power, and batted balls in play. The pace of play has quickened as well. As of April 16, the average game length was at three hours and 15 minutes, which is six minutes shorter than last year's average.
The players have noticed the trend. I talked to three players from the Doosan Bears — two position players and a pitcher — about the change in the ball.
OF Kim Jae-Hwan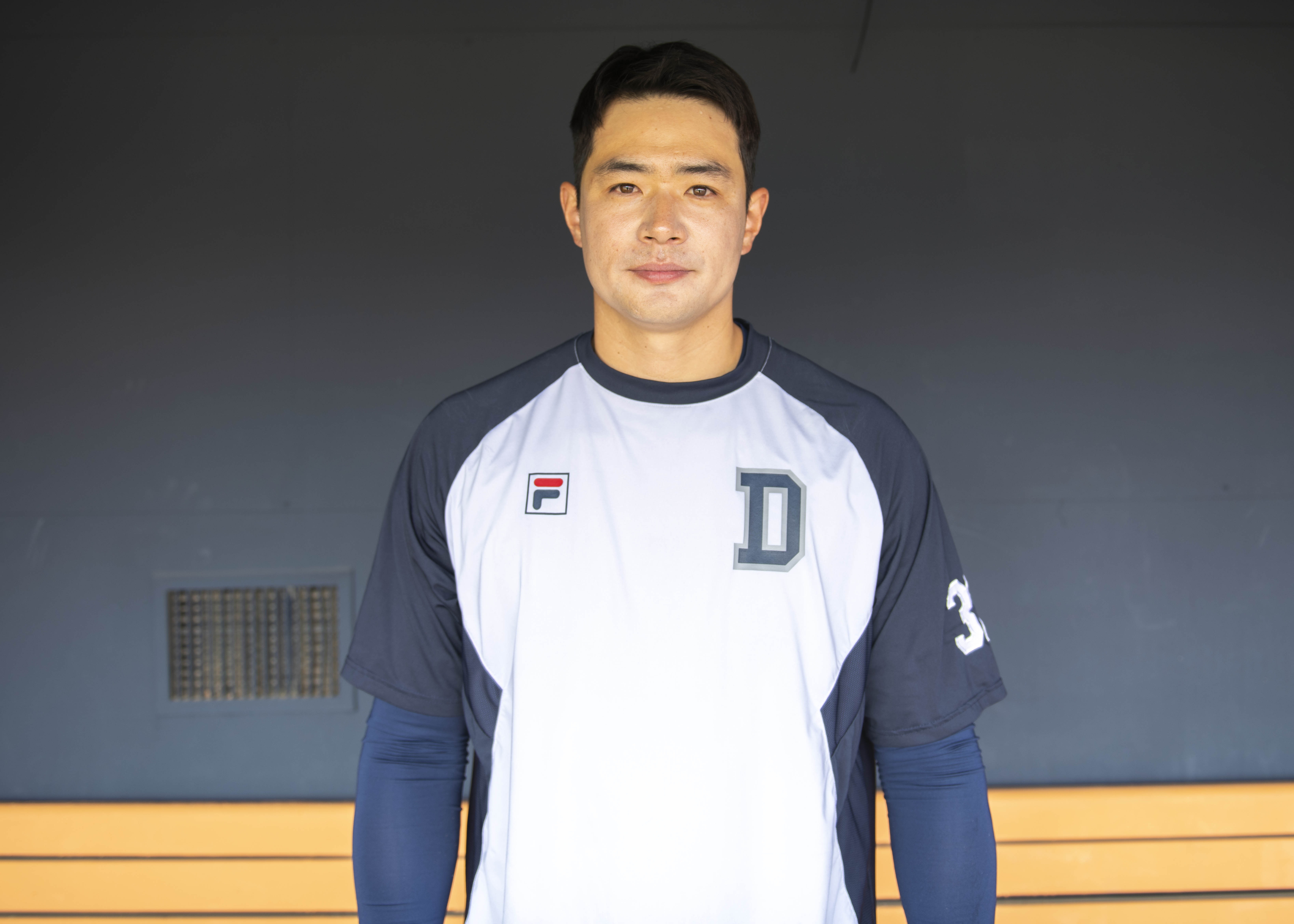 Kim Jae-Hwan (Photo: Sung Min Kim)
Kim knows what it's like to hit the ball well. The 2018 KBO MVP has been one of the best overall hitters in the league since his breakout 2016 season. In 2018, Kim became just the second hitter ever to hit 40 or more home runs while playing his home games in the cavernous Jamsil Stadium (which has dimensions similar to that of Kauffman Stadium). I asked him if he'd noticed the change in the baseball.
"Maybe it's because I haven't hit as many homers so far," Kim said, "But I can't say for sure. I think I'll know better for sure once the season goes along." He added that, when taking batting practice, he hasn't felt as much. "At least, so far, I haven't been able to see or feel the difference on how it comes off my bat."
However, Kim did acknowledge that he's seen some difference in batted balls that have been hit his way as an outfielder. When asked about it, he said that the fly balls and line drives don't "stretch as much" as he is used to seeing.
3B Heo Kyoung-Min
As a hitter and a very sure-handed infielder, Heo has felt more difference in batted balls than Kim has. "At first, I doubted that there would be a significant difference," Heo said, "but when I play defense and watch the batted balls fly to the outfield, or when I hit and see them travel, I do feel that there's been a difference from last year."
"As a hitter, there have been instances where I felt that 'Oh, I got all of it,' but it ended up being caught deep in the outfield or bounced off the wall instead. Or even when I hit a home run, it just barely goes over the fence. I think that's the kind of difference I've been experiencing."
LHP Ham Dok-Ju
As a pitcher, Ham wasn't subtle about his stance on the change. "I do feel that the batted balls aren't extending as much as how they used to," Ham said. "As a pitcher, I feel pretty positive about it.
"When it is hit well, I feel that the ball travels just as well as it used to, but I see more difference when I induce soft contact — it dies out much earlier than how I remember it before."
The new baseball is also 1 mm wider than the older ones. That might not be a big enough difference to feel in the hands. Maybe there's an initial micro-feel difference, but Ham says it hasn't affected at all how he throws. "When I was told that the baseball got a little bigger, maybe I felt such difference on my hand back then, but now that I've held and thrown it many times, it feels just the same as last year's."
Despite the numbers and testimonies, there are reasons to believe it's too early to reach conclusions. The obvious caveat here is that it's still only April. Offensive output tends to be lower in the colder weather. Some think that hitters, in general, are still getting into their form. A player who wished to speak anonymously told me that rather than the COR difference, he feels that it's been more about the hitters "not being able to find their own pace" early on this season.
In mid-March, the KBO conducted the first COR test with the new set of baseballs from Skyline, the ball's manufacturer, and it turned out that the balls actually exceeded the value that was set by the new regulation. They tested 36 baseballs and the result was an average COR of .4247, which exceeds the new maximum regulation value by .0013. As a result, the KBO fined Skyline 10 million won (roughly $8,800). The league is set to receive a new batch of balls that were produced in line with the league's feedback in early May. It will be worth revisiting once they do.