Jason Heyward's Surprising New Strategy for Success Will Shock You
Jason Heyward was a very good baseball player for a very long time. From 2010-2015, his 25 WAR was one of the top 20 marks in the game and in his final two seasons before free agency, his 10 wins was 10th in all of baseball. In his one season in St. Louis, Jason Heyward was worth 5.6 WAR. In three-plus seasons for Chicago, Heyward has been worth 4.6 WAR as he approaches the midway point of his $184 million contract. To say the contract hasn't worked out ignores that the Cubs won a World Series in his first season with the club and have won 90+ games in the two subsequent seasons. Heyward hasn't been a good value early on, but he trended upward slightly last season, hitting at an average level and producing at a above-average level overall when factoring in baserunning and defense. This season, Heyward has been one of the better hitters in baseball in the early going thanks to an a absurd 10 walks compared to just six strikeouts as well as new secret trick: hitting the ball hard.
We probably don't need to go through all of Heyward's history, but the table below shows that in his final year before joining the Cubs, Heyward hit the ball relatively hard and often on the ground while with the Cubs, Heyward got the ball in the air more, but hit the ball with less authority.
Jason Heyward Exit Velocity
| | Team | Average Exit Velocity | % Rank (min. 200 BB) | Average Launch Angle | wRC+ |
| --- | --- | --- | --- | --- | --- |
| 2015 | Cardinals | 89.2 | 66.2% | 4.6 | 121 |
| 2016 | Cubs | 86.7 | 25.5% | 10.6 | 72 |
| 2017 | Cubs | 86.4 | 30.3% | 10.9 | 88 |
| 2018 | Cubs | 88.1 | 47.0% | 9.4 | 99 |
SOURCE: Baseball Savant
This season, Heyward is off to a great start with a 165 wRC+; his average launch angle is 18 degrees and his exit velocity thus far is 90.5 mph, per Baseball Savant. When we talked about the launch angle revolution and trying to get players who hit the ball hard on the ground to put the ball in the air more, Jason Heyward was a prime example of a player who might benefit. Heyward hit the ball pretty hard with the Cardinals, and most of the time it went on the ground. His ISO wasn't anything superlative, but he hit the ball hard enough to make himself an above-average offensive player. Heyward did have the one year in 2012 when he hit 27 homers, but that has become an anomaly as his career has progressed. In the first 15 games this season, Heyward has a .255 ISO. Look at this 15-game rolling ISO chart and try to spot the places where Heyward has ever hit with this much power, even in a small sample.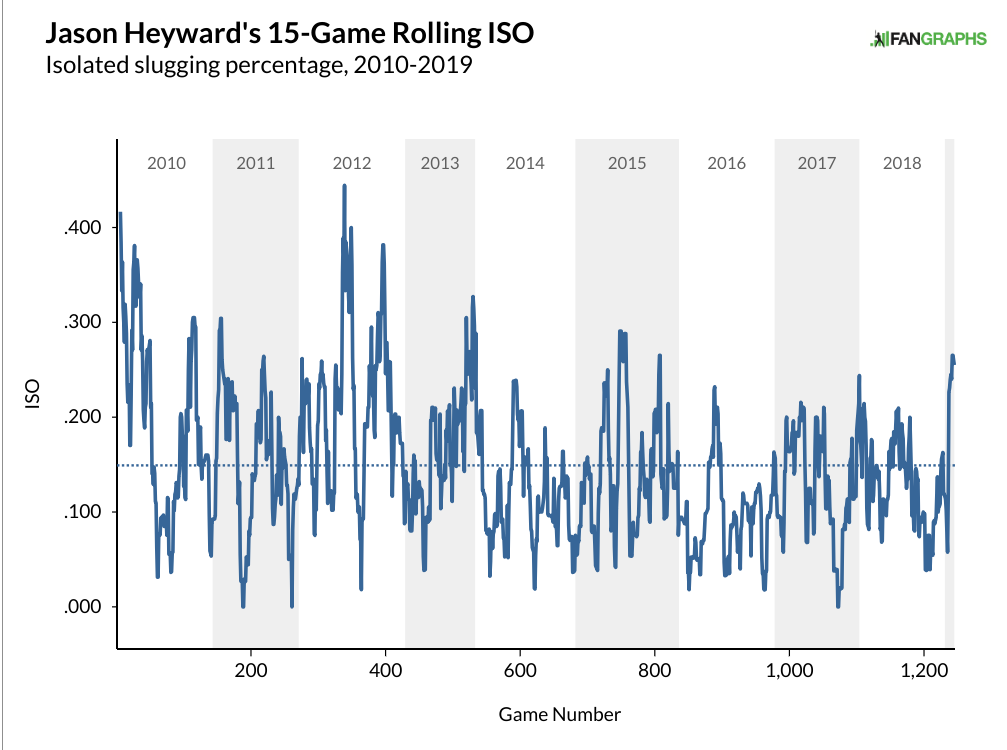 There's literally no 15-game period with the Cubs in which he's hit for this much power. He had one, maybe two brief stretches with the Cardinals, he closed the 2013 season well, and had a handful of hot periods during the first three seasons of his career. Since the end of the 2013 season, a period now encompassing more than five seasons, Heyward has had a short stretch like this just a couple of times. His career ISO is .149; the league has averaged an ISO of .151 over that span. Heyward has been, at best, an average power hitter, and over the last few years, he's been well below. That makes what he has done unusual so far. Of his five extra base hits this season, four have been homers; if a couple of those homers had been doubles, we'd be looking at something more reasonable, though Heyward's .367 xwOBA indicates he's still been hitting the ball well, regardless of how many balls have gone over the fence.
What's even more striking than Heyward's power output is his discipline. Heyward has walked in 10 of his 63 plate appearances and struck out just six times. He has long been a player who has walked a lot while striking out at a rate better than league average, but this walk rate is one unseen since before his 2015 in St. Louis.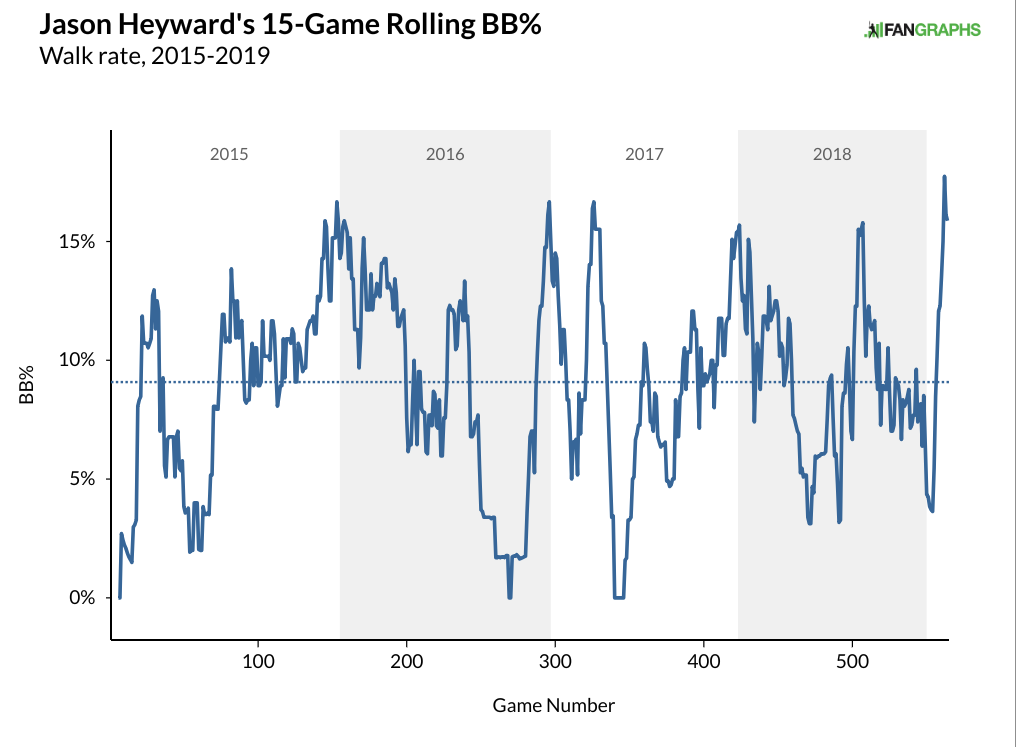 Heyward's changes in walks and strikeouts are fueled, perhaps unsurprisingly, by swinging at fewer pitches outside the zone and more pitches in the zone.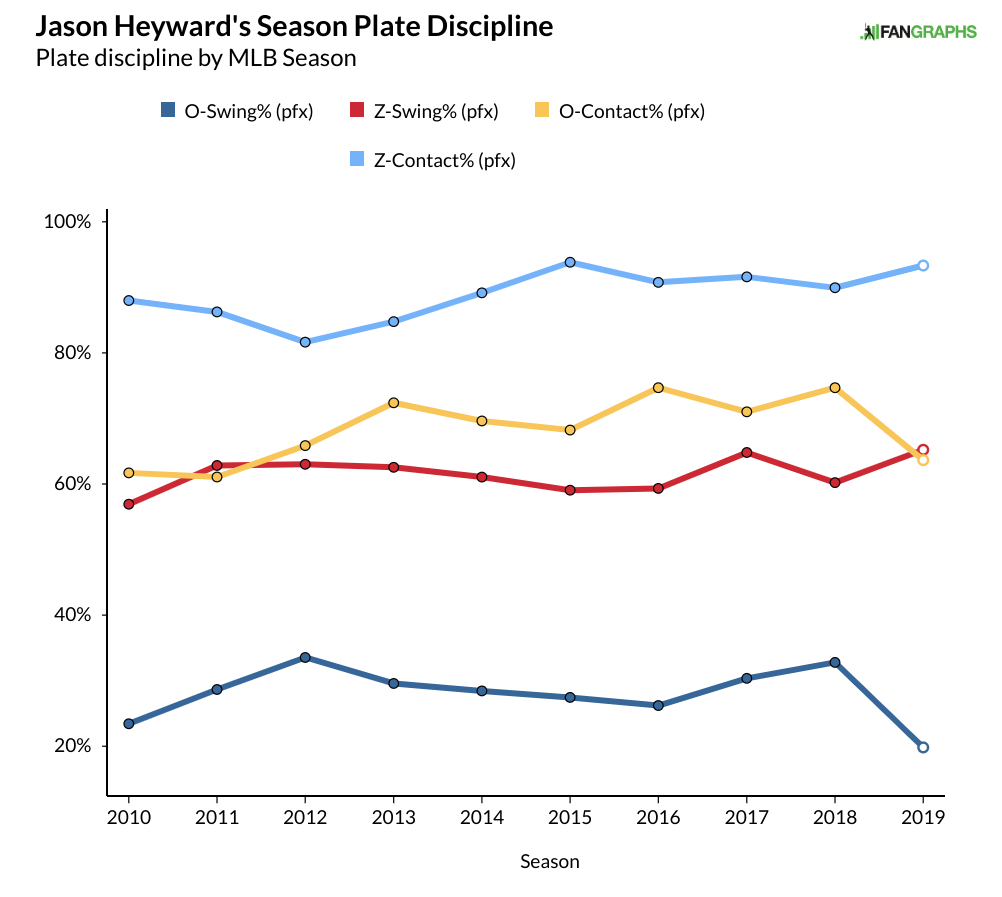 As he has swung at more pitches in the zone, he's making contact on more of those pitches as well. One notable part of the graph above is the contact percentage out of the zone. While Heyward has swung at considerably fewer pitches outside the strike zone, he's missed on those swings at a higher rate. This might suggest that those pitches outside the zone aren't pitches that are close resulting in weak contact, but rather are pitches where he is actually fooled. Given that his contact rate in the zone has gone up, it's possible Heyward is simply swinging a bit harder, or more comfortably, at pitches he feels he can drive. That brings us back to launch angle.
Looking purely at average launch angle can be a bit deceiving at times. As the table at the beginning of the post indicates, Heyward did a better job of getting the ball in the air, but he was a much worse hitter. Launch angle charts can help provide some insight into why. First, look at this chart from Heyward's year in St. Louis, from Baseball Savant.
That huge needle at -25 degrees represents a ton of ground balls that resulted in basically no hits. Then we see a bunch more batted balls from negative 20 degrees though positive 25 degrees with a decent number of hits. Then we see a tiny blip at 40 degrees and another small one at around 60 degrees, basically representing infield fly balls. Heyward was successful above because he hit the ball hard. The graphs below show the Cubs years when Heyward got the ball in the air a little more, but didn't hit it hard and got poor results.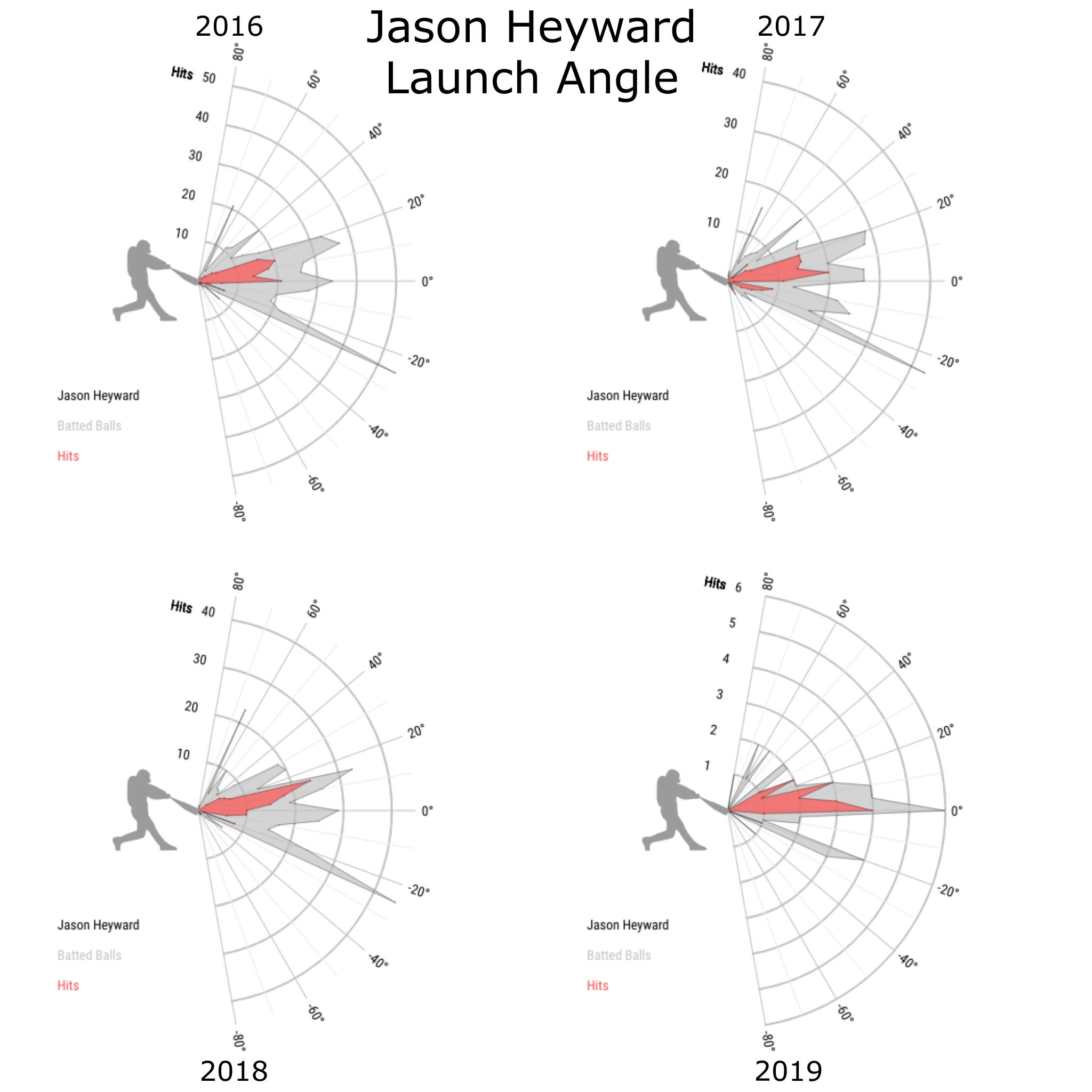 From 2016 through 2018, there is a massive spike at negative 25 degrees and a lot more negative numbers. There are a few more balls between zero and 20 degrees compared to what we saw in 2015, but not measurably so. We then see an uptick at the higher levels when Heyward was popping balls up; his infield fly percentage was over 18% in each of the past two years, the worst in the majors among the 165 batters with at least 900 plate appearances. Exchanging a few ground balls for infield flies might be a good way to see your average launch angle rise, but it doesn't make for a better hitter.
It is very early, but Heyward isn't hitting as many ground balls or infield flies, instead hitting balls much more likely to land for hits or home runs. It's possible what we are seeing is just a blip and Heyward will revert back to the average hitter he was last year, or regress further. It's also possible that among all of Heyward's hitting tweaks over the last decade and improved health, he's finally found something that can turn his hard-hitting ground ball tendencies into a launch angle converted power hitter. The Cubs tried to tap into Heyward's power when he first arrived by changing his swing, but a swing designed to turn on inside pitches plus a wrist injury just made Heyward a poor hitter. He has slowly improved the last few seasons, and he's off to a great start this year. He's finally hitting the ball hard, again, and if he can keep putting the ball in the air on strikes in the zone, he just might hit well enough to make opting out of his four years and $86 million a consideration instead of a complete non-starter.