The case for MVP: Giannis Antetokounmpo vs. James Harden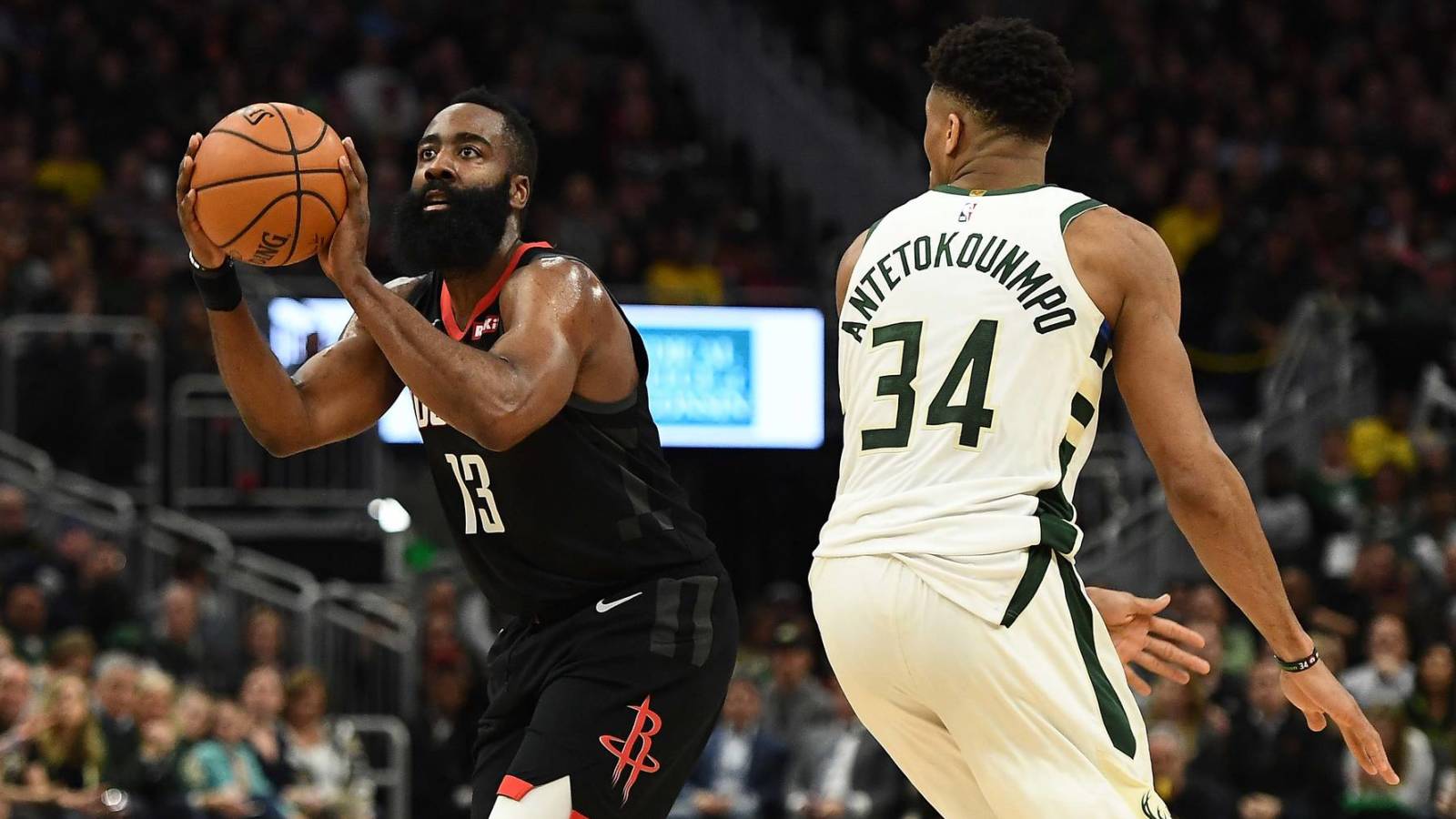 "And it's not even close." In today's social-media-driven world, there's no middle ground — you have to pick a side and end your arguments with obnoxious phrases like, "and it's not even close." 
Well, I have some tough news for everyone: You must come up with a different phrase to hammer home your argument about who should win the 2018-19 NBA Most Valuable Player Award because Milwaukee's Giannis Antetokounmpo and Houston's James Harden had MVP-worthy seasons. Both have put up historically good numbers. Both have a compelling MVP narrative. And both had a major MVP moment with the whole world watching. There's no definitive argument; they both were transcendent this season.
That being said, unless by some miracle both end up with the same number of MVP points, they aren't going to be co-MVPs. One of them is going to be the MVP, and one is going to be left wondering, "What else could I possibly have done?"
So since there will be an answer, but no wrong answer, I'll lay out the argument for each across four categories: statistical achievements, MVP narrative, MVP moment and detracting factors. You get to choose who should win the MVP. (Don't worry. I'll give you my take too.)
MVP narrative 
The case for Antetokounmpo is that he's the best player on the best regular-season team. If you look back through all of the MVP winners, most were on either the best team in the league or the best team in the conference. This makes sense because value should beget winning. The Bucks won a league-high 60 games this season, and Antetokounmpo was, by far, the best player on the team. This also marks the season that Antetokounmpo developed into the best two-way player in the game. In fact, there's a chance he wins the MVP and the Defensive Player of the Year awards, which would make him only the third player to do so in the same season. (Michael Jordan and Hakeem Olajuwon are the other two.) Now, a great offensive player beats a great defensive player any day of the week in the NBA, but when you stop and think about the "Greek Freak" being a top-five offensive player and  a top-five defensive player at the same time, how does that not make him the most valuable player in the league?
The case for Harden is that he had one of the greatest individual seasons of all time and single-handedly kept an injury-riddled Rockets in contention in the Western Conference. When Harden won the MVP last season, everyone assumed that he had peaked as a basketball player. For one, his numbers were comparable to those from the two previous seasons. For two, he would turn 29 years old at the end of the summer, which is typically in the middle or back end of a superstar's prime. And three, the Rockets' roster would never be as perfectly fit to his skill set again –- Trevor Ariza and Luc Mbah a Moute left in free agency, Chris Paul and Eric Gordon were a year older and the team had pulled out all the stops to win it all last season. 
Turns out, everyone was wrong. Harden actually had another level he could take his game to — a level that only two other perimeter players (Jordan and Kobe Bryant) had ever reached. He essentially broke basketball by perfecting his array of step-backs, getting to the line more than ever (11 attempts per game) and even adding a floater to his repertoire. He was the only player in the league who could have carried Houston the way it needed to be carried when Paul, Clint Capela and others were injured. Isn't that exactly what we're trying to get at with "valuable"?
Statistical achievements
The case for Antetokounmpo here is that his stats mirror Shaquille O'Neal's from his 1999-2000 MVP season. That year O'Neal averaged 29.7 points, 13.6 rebounds, 3.8 assists and 3.0 blocks per game on 57.4 percent shooting from the field. Shaq's Player Efficiency Rating (PER) that year was a career-best 30.6. The league didn't track dunks until the next season, but it's safe to assume that he had between 250 and 300 dunks. He also had a plus-10 net rating (offensive rating per 100 possessions less defensive rating per 100 possessions). This year Antetokounmpo averaged 27.7 points, 12.5 rebounds, 5.9 assists, 1.5 blocks, and 1.3 steals per game on 57.8 percent shooting from the field. Antetokounmpo's PER was 30.9, and he slammed home 279 dunks. What was his net rating, you ask? Plus-22! The small-ball era has turned Antetokounmpo into this generation's Shaq, even though the two have vastly different playing styles. Shaq isn't even mad about it either — he recently renounced his Superman status and cape to Antetokounmpo on NBA TV.
The case for Harden here is that he had the highest scoring season (36.1 points per game) since Jordan scored 37.1 points per game in 1986-87. Harden also had a 32-game streak of scoring 30 points or more, the second longest in NBA history. (Wilt Chamberlain did it 65 straight games!) The Beard was a "Game Genie" the entire season, as he also averaged 6.6 rebounds, 7.5 assists and 2.0 steals on 44-37-88 shooting splits (FG-3FG-FT). He had a 30.6 PER (better than Jordan's 29.8 in '86-87) and a league-leading 9.9 Value over Replacement Player rating (12th-best in NBA history and well above Antetokounmpo's 7.6 VORP). Perhaps the craziest Harden stat from this season, though, was his NBA-record 1,028 three-point attempts (11.3 per game) — 142 more than any other player in NBA history. Making 37 percent of your three-pointers with that kind of volume is a statistical marvel. You don't have to love his playing style, but you're never going to forget the masterpiece of a season Harden had in 2018-19.
MVP moment
The case for Antetokounmpo here is his late-season, prime-time matchup against Joel Embiid and the Philadelphia 76ers. Before the game, Embiid had proclaimed himself the most unstoppable player in the game. While Embiid finished this duel with 34 points and a triple-double, Antetokounmpo absolutely stole the show with 45 points, 13 rebounds, six assists and five blocks, including a couple of huge swats on Embiid that definitely had a little something extra to punctuate the performance. His net rating for the game was a preposterous plus-51. It was incredible the way Giannis attacked Embiid and Ben Simmons, both of whom are considered good defenders, with aggressive, powerful drives and back-downs. He made the 6-foot-10, 230-pound Simmons look like a JV player at times and probably swung a couple of Defensive Player of the Year votes his way by making Embiid look heavy-footed and clumsy at times. If Antetokounmpo wins the MVP, this was the game that did it for him.
The case for Harden here is "The Golden State Game." When you can simply refer to a player's performance by saying, "The [opponent's city] Game," that's the definition of an MVP moment. Harden's 44-point, 15-assist, 10-rebound masterpiece with a game-winning three-pointer between Draymond Green and Klay Thompson was the most impressive individual game any NBA player had this season. Harden, who was in the middle of his 32-game, 30-point streak, buried 10 three-pointers and just kept coming back every time the Warriors threw a haymaker and put Oracle Arena into a frenzy. His ability to stay calm and weather the storm during the chaotic Warriors' runs was LeBronesque.  If last year's seven-game series wasn't enough to make Golden State fans fear The Beard the way they fear LeBron James and Kyrie Irving, this game certainly elevated Harden into that exclusive club.
Detracting factors 
The case against Antetokounmpo is ironically the man who enabled him: his coach, Mike Budenholzer. Coach Bud, recently named NBA Coach of the Year, saw where Antetokounmpo's previous coaches had failed him and built a juggernaut around his strengths on both ends of the court. On offense, he spread the court out with shooters at every position to allow his star more room to operate. There's no way Antetokounmpo shoots 70 percent inside the restricted area if Brook Lopez wasn't standing 25 feet away from the basket and dragging the other team's rim-protector with him. On defense, he got rid of Jason Kidd's defunct defensive system and allowed Antetokounmpo to be more of a weak-side roamer where he could use his pterodactyl-like wingspan to contest shots, deflect passes and grab-and-go off rebounds. The question you have to ask yourself is: How much of Giannis' improvement was coach Bud's doing, and how much was his own doing? I'm going to go with the latter on that.
The case against Harden is that he was part of the Rockets' early season struggles; ergo he put himself in the position where he had to go full-MJ to save his team's season. Like the case against Antetokounmpo, these arguments are pretty weak and a little self-serving. Yes, the Rockets stunk at the beginning of the season, but a lot of that can be chalked up to Paul and Gordon playing terribly. Paul was looking like a John Wall-type albatross contract for the first few weeks before his hamstring injury sidelined him, and Gordon was shooting like Charles Barkley and Patrick Ewing after the Monstars stole their powers — seriously, Gordon was shooting under 33 percent from the field and under 25 percent from three through his first 14 games. Let's not crush Harden for things that were out of his control.  
Who is the MVP?
Most NBA writers have publicly announced their MVP vote by now, and it appears that Antetokounmpo will take home his first (and likely not his last) Most Valuable Player Award. However, in such a close battle involving the reigning MVP, shouldn't the tie go to Harden? Shouldn't the Greek Freak have to snatch the trophy away from Harden? Before you cast your own fictional MVP vote, ask yourself: When I think back on the 2018-19 NBA regular season, what will I think of first – Antetokounmpo's ascension or Harden's scoring streak? For me, it's Harden's scoring streak…and it's not even close.