10 NFL Draft prospects whose stocks are soaring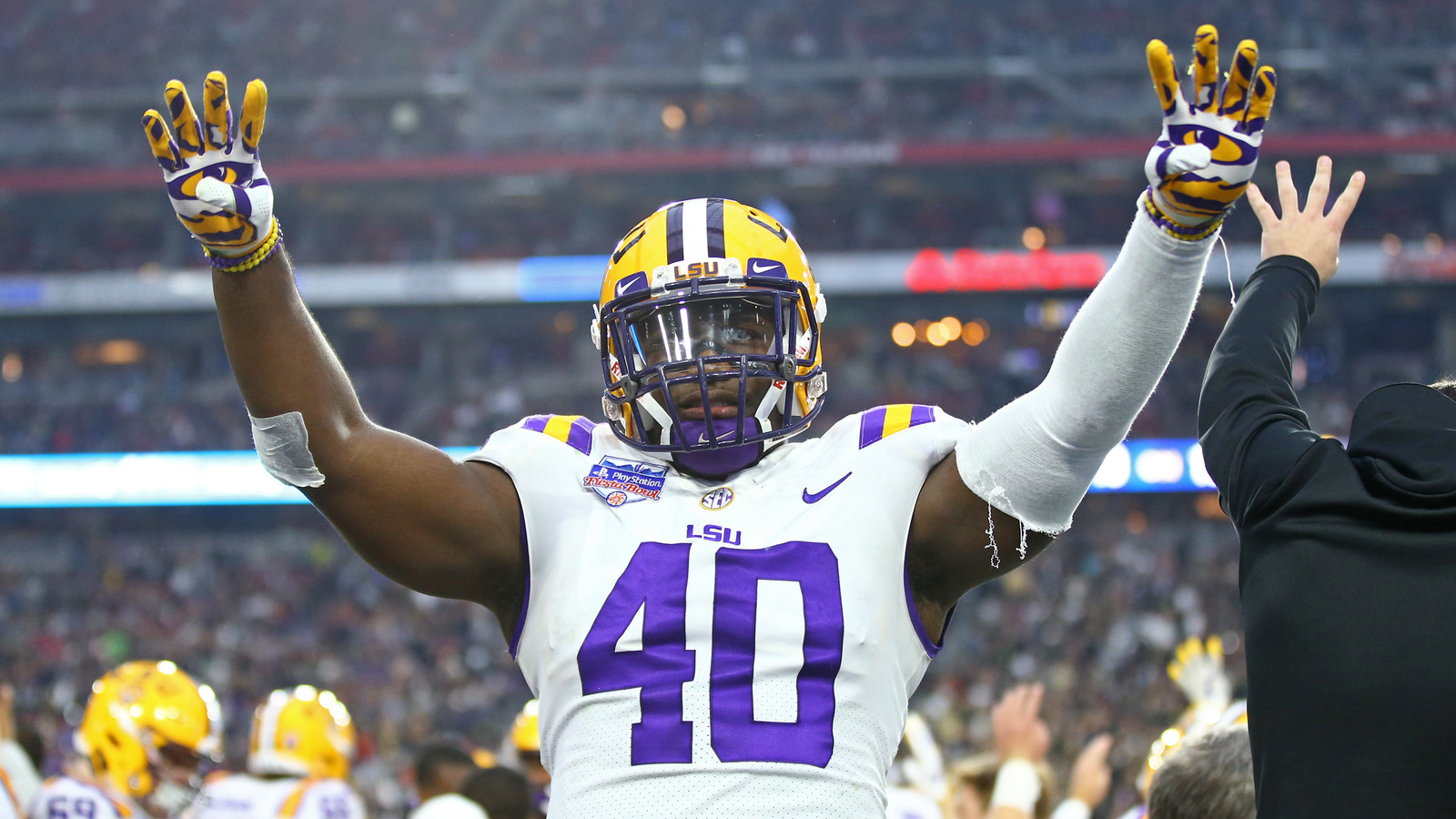 It's hard to believe, but the 2019 NFL Draft is just about a week away.

Or maybe it's not so tough to comprehend. After all, fans have gone through months of mock draft after mock draft. It's hard to keep them all straight.

As we enter the final stages of the pre-draft process, here are 10 prospects with soaring stock:

Devin White, linebacker, LSU 

There are two clear options for any team looking to add a middle linebacker early in the first round, and White is the favorite of the two. A month ago the consensus was White wouldn't slip past the Cincinnati Bengals at No. 11, but in the last few weeks he's risen into the top 10 in several mock drafts.

White has the speed, competitiveness and work ethic to be the next great NFL linebacker. He could go as high as No. 5 to the Tampa Bay Buccaneers, who are looking to replace Kwon Alexander this offseason.

Parris Campbell, wide receiver, Ohio State 

The Buckeyes receiver first began to ascend the draft boards after running the 40-yard dash in 4.31 seconds at the NFL combine. At 6-feet tall and 205 pounds, he's rather big to be the fastest receiver in the class.

Campbell reportedly needs to work on his route running, but even at the next level he is expected to get by, at least initially, on his athleticism. That could make him a mid-first-round pick.

Noah Fant, tight end, Iowa 

Fant has been a first-round pick throughout the draft process, but he continues to rise and recently went at No. 9 in a mock draft from Charles Davis of NFL.com. The tight end from Iowa expects to create mismatches against both linebackers and safeties and is dangerous in space.

How much Fant rises on draft day could depend on how quickly his teammate and fellow tight end T.J. Hockenson hears his name called. The duo are the top prospects at tight end, but many prefer Hockenson.

Brian Burns, defensive end, Florida State

There's a pretty wide range of draft skinnies on the Seminoles defensive end. Some draft experts consider him merely a pass-rushing specialist, while others have projected him to translate into a playmaker in space — that is, if he can add some weight to his thin frame.

While NFL.com mock draft expert Peter Schrager doesn't have Burns going in the first round, that's pretty rare. The overall NFL.com draft rankings have Burns rated as the third-best edge rusher in the class, and CBS Sports' Ryan Wilson has him going No. 8 to the Detroit Lions.

Drew Lock, quarterback, Missouri

Seeing a quarterback rise on the draft boards late in the process is nothing new. It's the most important position in the league, and four signal-callers went in the top 10 last year.

Through most of the offseason, Lock has been slotted as the third-best quarterback in the class behind Kyler Murray and Dwayne Haskins. That isn't so much the case anymore, though, as some experts have moved Lock ahead of Haskins. Chad Reuter of NFL.com has Lock going No. 2 overall in his latest mock draft.

Jerry Tillery, defensive tackle, Notre Dame 

Tillery wasn't even considered a first-round pick after the NFL combine, but mock draft experts have taken more notice of the defensive tackle's skills as of late. Tillery has "dominant potential," according to NFL.com, and he would fit best in a 3-4 scheme.

The way his stock is rising, it wouldn't at all be a surprise to see Tillery hear his name called late in the first round.

Greedy Williams, cornerback, LSU 

Most experts consider Williams a strong first-round selection for a playoff team — somewhere between No. 22 and 25. But CBS Sports' Chris Trapasso has Williams going eighth overall to the Lions.

The LSU cornerback is extremely athletic and stands at 6-foot-2. That length and his athleticism are why Williams could go in the top half of the first round.

Dalton Risner, offensive line, Kansas State

The four-year college starter probably deserved more respect at the beginning of the process. NFL.com ranks Risner the third-best offensive tackle in the class and projects him to be an immediate starter.

But not until recently has Risner seen his name pop up in the first round of mock drafts. Trapasso has the Kansas State tackle going 21st overall in his latest mock draft.

Ed Oliver, defensive tackle, Houston

It's hard to call Oliver's stock rising because it's been all over the map. But a majority of draft evaluators love the Houston defensive tackle and consider him a top 10 selection.

Around the NFL combine, there were questions about his size, as his playing weight in college was under 285 pounds. Oliver changed the narrative after his pro day performance, though, running the 40-yard dash unofficially in 4.75 seconds.

Oliver is definitely athletic, and that's raising his stock in many circles to top 10 status.

D.K. Metcalf, wide receiver, Ole Miss 

Are we sensing a theme yet? A lot of the players who see their stocks soar this late in the process are excellent athletes. Metcalf might be the best example of them all.

At the combine the Ole Miss wideout ran the 40-yard dash in 4.30 seconds. Standing at 6-foot-3 and 228 pounds, that's absolutely astonishing. A picture of Metcalf's abdomen, which looks more like a Batman suit, on Twitter only added to his folklore.

Metcalf's stock seems to have plateaued, as in some circles he's back to being a late first-round pick. However, some experts are still predicting Metcalf will go in the top 10.