Yoan Moncada is Different
There are varying tactics when it comes to approaches at the plate. Getting ahead and waiting for the right pitch is one. Swinging at the first good pitch you see because you might not get another is a second. Protecting the plate when behind in the count comes up often. Hitters use some or all of that when they step up to bat, but Yoan Moncada's patience last season ended up hurting what could have been a much better season. A more aggressive approach thus far has shown much better results this year as Moncada attempts to take the next step in his development.
Last season, Moncada has a walk rate of 10.3%, which is good, and a strikeout rate of 33.4%, which is bad. The only players at 23 years of age or younger to put up double-digit walk rates and a strikeout rate above 30% (which is going to limit how far back we go given the massive rise in strikeouts) are Kris Bryant (2015) and Joey Gallo (2017). Gallo hit 41 homers to make himself an offensively valuable player. Bryant was constantly making great contact when he did put the ball in play on his way to a Rookie of the Year campaign. Moncada hit the ball hard when he made contact, but not at the same level as Bryant, and ended with a 97 wRC+ on the year. Changes are necessary to improve on that mark, and it looks like Moncada may indeed be making them.
Last week at MLB.com, Mike Petriello also wrote about Moncada, noting just how terrible he was on two-strike pitches, notably pitches on the edge, which caused an absurdly high number of called third strikes.
That made the problem easy to diagnose, if not easy to solve. Don't get to two strikes. But also, don't get to two strikes being so desperate that you start expanding your zone and flailing at bad pitches.

We know this, because Moncada and the Sox spent a lot of time talking about it.

"As long as he maintains an aggressive approach within the strike zone, which he has been increasing," Chicago manager Rick Renteria said to MLB.com in July, "he has a chance of having really good success obviously."

"We made a plan," Moncada said to MLB.com in December, referring to extensive offseason work with White Sox coaches. "Right now, I am in a better position to succeed and to be a better player next season. It was a very good experience, overall."

"We ended up attacking the topic of his strike-zone approach," Renteria said. "He has great ability to take pitches. That's something that's innate in him."
Petriello noted that Moncada was being a bit more aggressive, particularly with the zone, and he was hitting the ball harder and striking out less, all good outcomes. Moncada has lowered his strikeout rate to 24% on the season, and while that might not necessarily represent a new skill level, even after 66 plate appearances it is enough to change our expectations considering last year's 33% mark. Moncada's walks have gone down to about 6%, but he is tearing the cover off the ball with a .242 ISO and a .395 BABIP, which has helped lead to a 152 wRC+. The decrease in walks isn't great for Moncada, but the lowered strikeouts more than make up for that. Consider that when Moncada put the ball in play last season, he put up a 175 wRC+, one of the top 30 marks in the game. This year, he's putting up a 227 wRC+ when he puts the ball in play, but he doesn't need that to keep up to make a different to his overall line as we know that BABIP is going to come down some even if we reasonably expect him to post a high value.
By taking 13% of his plate appearances that were walks and strikeouts last season and turning them into batted balls, even with just the .164 ISO and .344 BABIP from last season, his wRC+ would go from 97 up to 114 and result in a 3.5 WAR season instead of an average one. To determine how sustainable these changes might be, it helps to pinpoint them. Petriello focused on the two-strike pitches, but let's take an earlier, slightly broader view to reveal the two different Moncadas. One of the keys is to avoid getting to a bad two-strike count. Last year, Moncada had one of the biggest disparities in terms of results depending on whether the first pitch was a ball or a strike.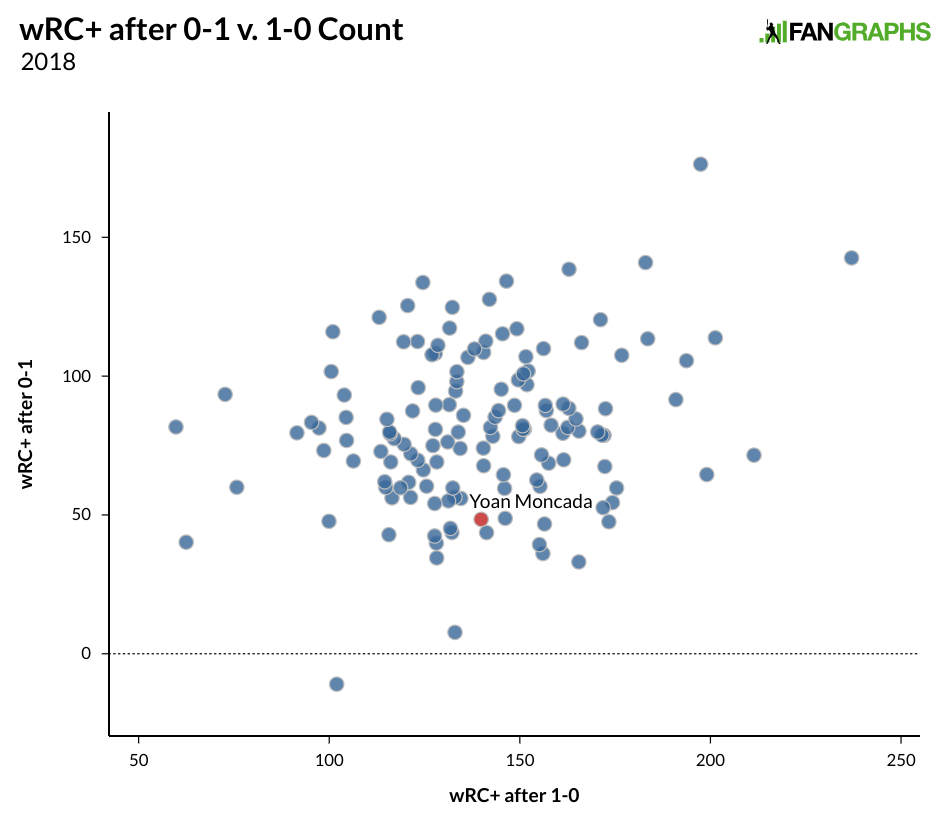 Moncada isn't off on his own, but there are very few batters as good as Moncada when getting a first-pitch ball who are as bad as Moncada when getting a first-pitch strike. Of the 140 batters above, Moncada's 140 wRC+ when getting a first-pitch ball is roughly average while his 48 wRC+ following first-pitch strikes is 124th out of 140 and 32 points below the average in the sample above. This is troublesome when his 61% first-strike rate meant he was falling behind more than most batters. What makes Moncada different when falling behind is that, last season, he simply chose not to swing when behind. Here's another scatter plot showing swing percentage depending on whether the batter was ahead or behind in the count.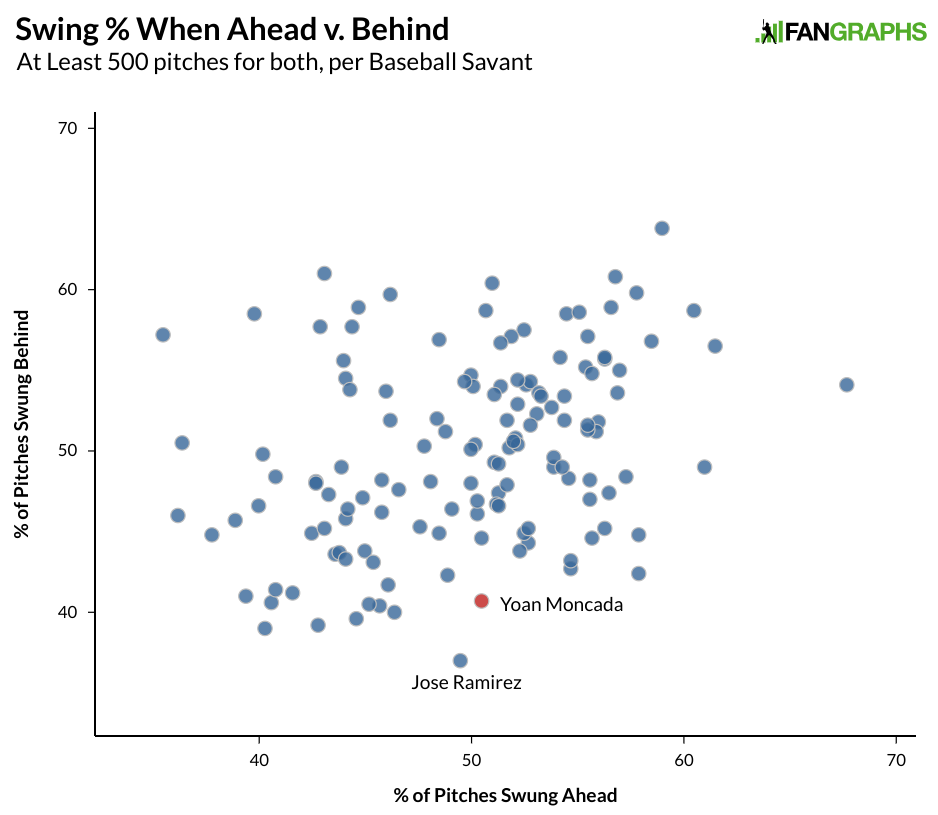 Here, Moncada is a bit more out on his own. For the most part, players kept pretty similar totals whether ahead or behind, and if there were outliers, they tended to be on the side that swings more when behind. Jose Ramirez makes it work. So does Eugenio Suarez. It just wasn't working for Moncada, however. He doesn't need to be good when he falls behind in the count. He just needs to not be terrible and he'll see a big uptick in his numbers. It's early, but we've seen a change in Moncada's approach thus far. He's still swinging at about the same number of pitches when ahead in the count at 53%, but when he's behind in the count, the number of swings has jumped up to 56%. The results have been there as well with a couple doubles and a homer after netting just 11 extra-base hits when behind in the count all last year.
As to whether this can continue, there are a few good signs. First, it appears that the changes Moncada made are conscious and not the result of a small, random number of bats. He is making an effort to be more aggressive and it is showing up in his batting line. Second, Moncada's swinging strike rate has yet to change, which means that his more aggressive approach hasn't meant more wild swings. His swings out of the zone are at 26%, only slightly higher than last season's 23% mark, while his swings in the zone are way up, going from 61% last year to 70% in the early-going this season. If pitchers respond to Moncada's more aggressive approach with more pitches out of the zone, we should see that walk rate go back up as Moncada still avoids swinging at balls. It's probably a lot easier to take a patient approach and teach aggression like the current plan with Moncada. When he makes contact, he does damage, and in the early going, more contact is leading to much better results.