Padres GM Preller: Hot Start Doesn't Change Pitching Plans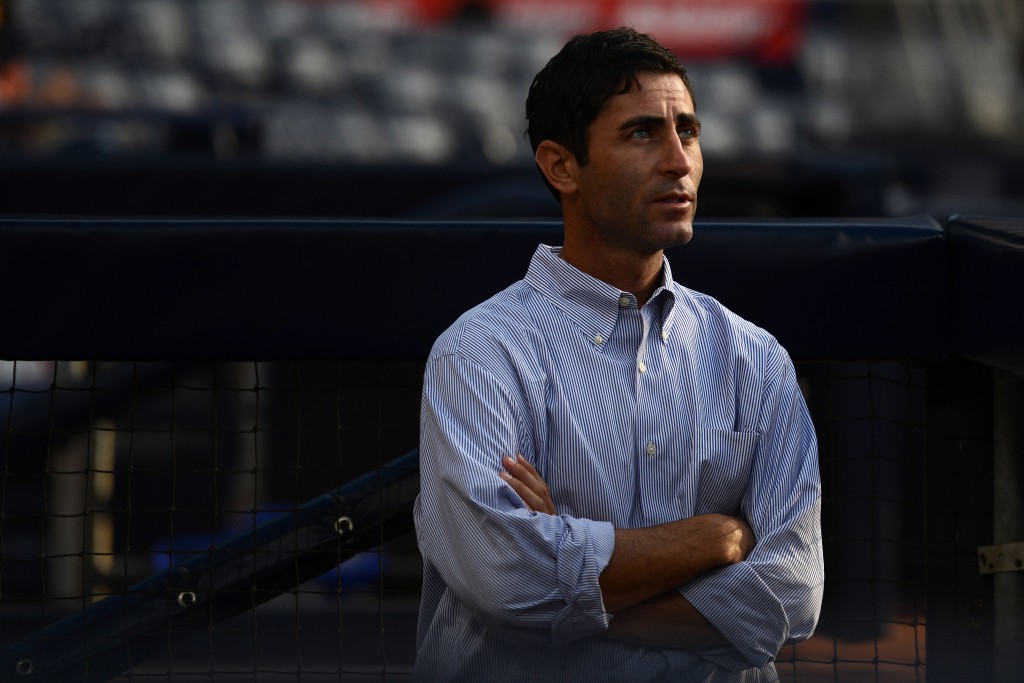 The Padres are off to a dream start, running out to an 11-6 record after a memorable offseason capped by some aggressive Opening Day promotions. Starting pitching was and is the area of greatest uncertainty, but San Diego GM A.J. Preller says the club's rotation plans haven't changed, as Jeff Sanders of the San Diego Union-Tribune reports.
"The way we've designed it, I don't think this changes the planning," says Preller, who has thus far been rewarded for his bold approach to managing the club's staff. After looking into significant additions all winter, the club elected instead to bypass the market entirely and roll with a series of young arms. The rookie starters have been stunning, with Chris Paddack, Nick Margevicius, and Pedro Avila combining to allow just six earned runs in 35 1/3 innings.
Those fascinating early results don't tell the entire story, of course. It's still quite an inexperienced overall starting unit — just one pitcher, Matt Strahm, had appeared in the big leagues prior to 2018 — and there's uncertainty to go with the talent. Strahm is still a bit of a wild card, while Eric Lauer and Joey Lucchesi are still working to build upon their promising debut showings to fully establish themselves at the game's highest level.
Preller isn't just going to lean on that group, however, as the surprise call-up of Avila demonstrates. He tells Acee that he plans to continue drawing from the well of talent in the Friars' farm system.
There are certainly plenty of other interesting arms floating around. Preller has already proved he'll dip deep into the farm to call up the pitchers he deems ready. But doing so means clearing and tying up a 40-man roster spot for a player who may not remain on the active roster for much of the season. Robbie Erlin and Anderson Espinoza are on the 40-man, but exciting hurlers such as Logan Allen, Cal Quantrill, MacKenzie Gore, Adrian Morejon, and Michel Baez are not. Otherwise, Luis Perdomo and Matt Wisler (currently working in relief) join the recently outrighted Bryan Mitchell as conceivable depth options, with Tommy John recoveree Dinelson Lamet a potential mid-season boost.
The strategy is fascinating, particularly since many of these hurlers will face innings limits this year. Monitoring work load and discerning which pitchers are best prepared to deliver results — and least susceptible to developmental damage — will be a season-long juggling act.
There's an argument to be made that the Padres should instead act now, or at least prepare now, to add a veteran stabilizer or two. Dallas Keuchel, whose free agency is showing no signs of coming to an end, represents the obvious option. Perhaps some early-season trade possibilities could also be explored, though Preller would no doubt be wary of overpaying just to get something done. (He has experience on the other side of just such a scenario.)
At the same time, a new veteran might make for some roster complications of its own. And there's no rush to act with so many things going right — even if Strahm, Lauer, and Luchessi are all allowing more than four earned runs per nine at the moment. (Luchessi, at least, has sparkling peripherals.)
Preller suggests that the organization will begin to consider market possibilities when the calendar flips to June, by which time there'll be much more information on where the Pads are heading and what can be accomplished by trade. Tempting as it may be to try to press an early advantage, particularly after such an aggressive offseason, the team obviously wants to see through its opening gambit and get a full look at the internal slate of talent. It'll be fascinating to watch this strategy unfold and to see where it leads.