Examining Alex Gordon's Hot Start
In Kansas City, Alex Gordon is more than just a Royals outfielder. He is the Royal of the 2010s, the face of the franchise during their two seasons of triumph, during their incredible run of back-to-back American League pennants and the 2015 World Series title. Gordon is arguably the most important Royals player since George Brett. And, fittingly, since the franchise was founded in 1969, Brett (84.6 WAR), Amos Otis (42.0), and Willie Wilson (35.2) are the only three Royals position players to produce more WAR than Gordon's 32.0. It's an indisputable fact that Gordon is one of the best players in franchise history, and his legacy has already been cemented as a true Kansas City Royal.
Unfortunately, Gordon's best days are long behind him. In a four year stretch from 2011 to 2014, Gordon was the fourth-most valuable outfielder in baseball, consistently producing solid seasons on both sides of the ball. Alongside his excellent .283/.356/.453 triple slash line over 2,754 plate appearances, Gordon put up a total of 23.9 defensive runs above-average, good for the sixth-best defensive outfielder over that stretch.
Since 2016, the aging curve has come to bite Gordon, resulting in a couple of subpar seasons (0.6 WAR in 2016, -0.1 WAR in 2017) before creating some decent value in 2018 (1.7 WAR), mainly due to his defensive contributions.
To start 2019, though, Gordon has come out firing on all cylinders. Through his first 57 plate appearances, he's put up an excellent .356/.456/.667 line with three home runs, seven walks and just five strikeouts. His 1.0 WAR is the fourth-most in baseball, as is his 198 wRC+. Even in a small, 13-game sample, Gordon is at a level that he hasn't reached since August 2016.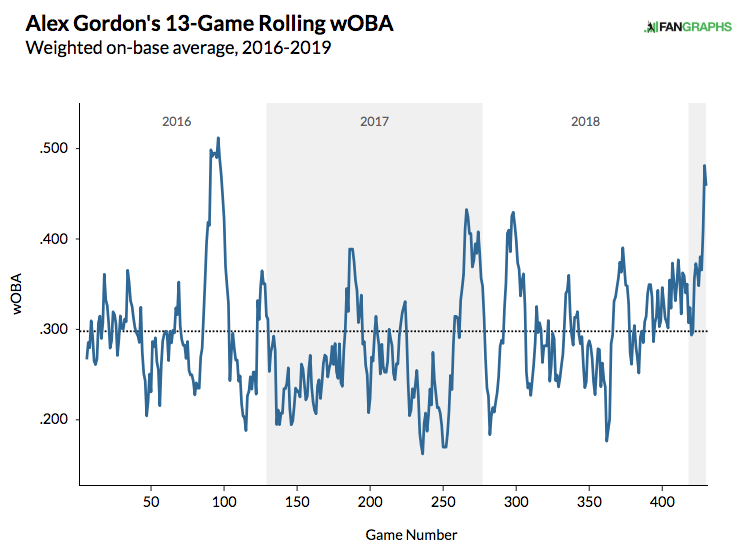 Needless to say, Gordon's early resurgence could be nothing more than a blip, but perhaps there's something more here. In a story by Rustin Dodd in The Athletic, Gordon cited a mechanical adjustment made last August as the reason for his recent success:
He changed his posture at the plate. He focused on his approach. He leaned on the Royals' committee of hitting gurus, including hitting coach Terry Bradshaw and coaches Pedro Grifol and Dale Sveum, each of whom has held the title of Royals hitting coach.

"It was getting my posture back, staying straight up," Gordon said. "It has allowed me to be more athletic in the box and use my hands a lot better. I don't know how I got to it, but I started hunching over. That's just not a good place to be, and I just couldn't get out of it."
Gordon did end 2018 on a relatively high note. In fact, if you zoom out, and instead of looking at Gordon's start, look at his last 200 plate appearances, you can see sustained offensive success. In this 200-plate appearance sample, dating back to August 23 of last year, Gordon has hit .295/.375/.503 (136 wRC+) with seven home runs, 18 walks (9.0 BB%), and 36 strikeouts (18.0 K%). One can more definitively say that this is a real change in performance.
As we'd expect from the one who makes said adjustment, Gordon describes this change perfectly. Here is a screenshot comparing 2018 Gordon at-bats, one from May 3 (left) and one from September 2 (right):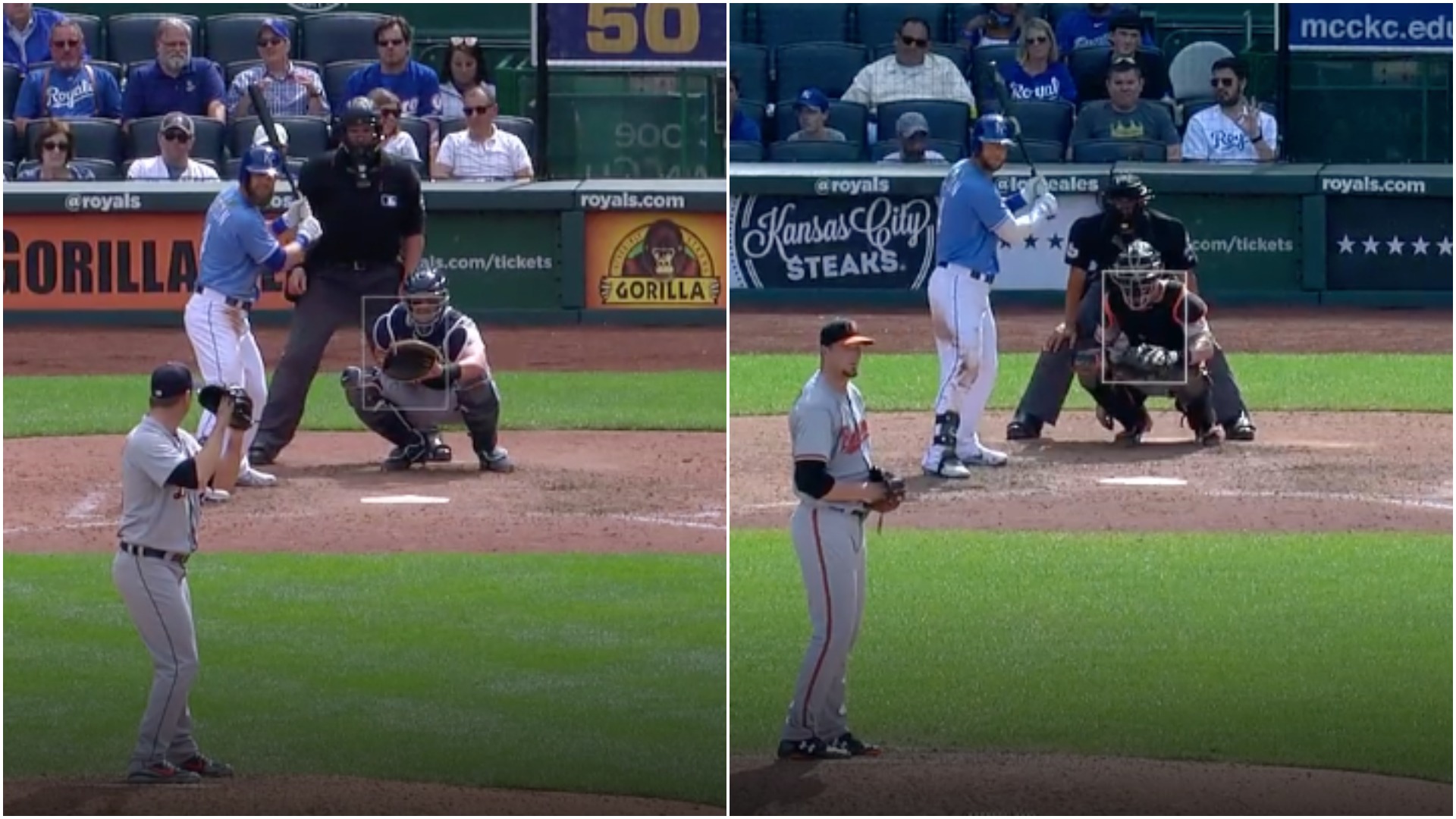 The change is indeed stark. Now, let's take a look at Gordon at his contact point for both of these pitches. Again, May 3 is on the left, and September 2 is on the right: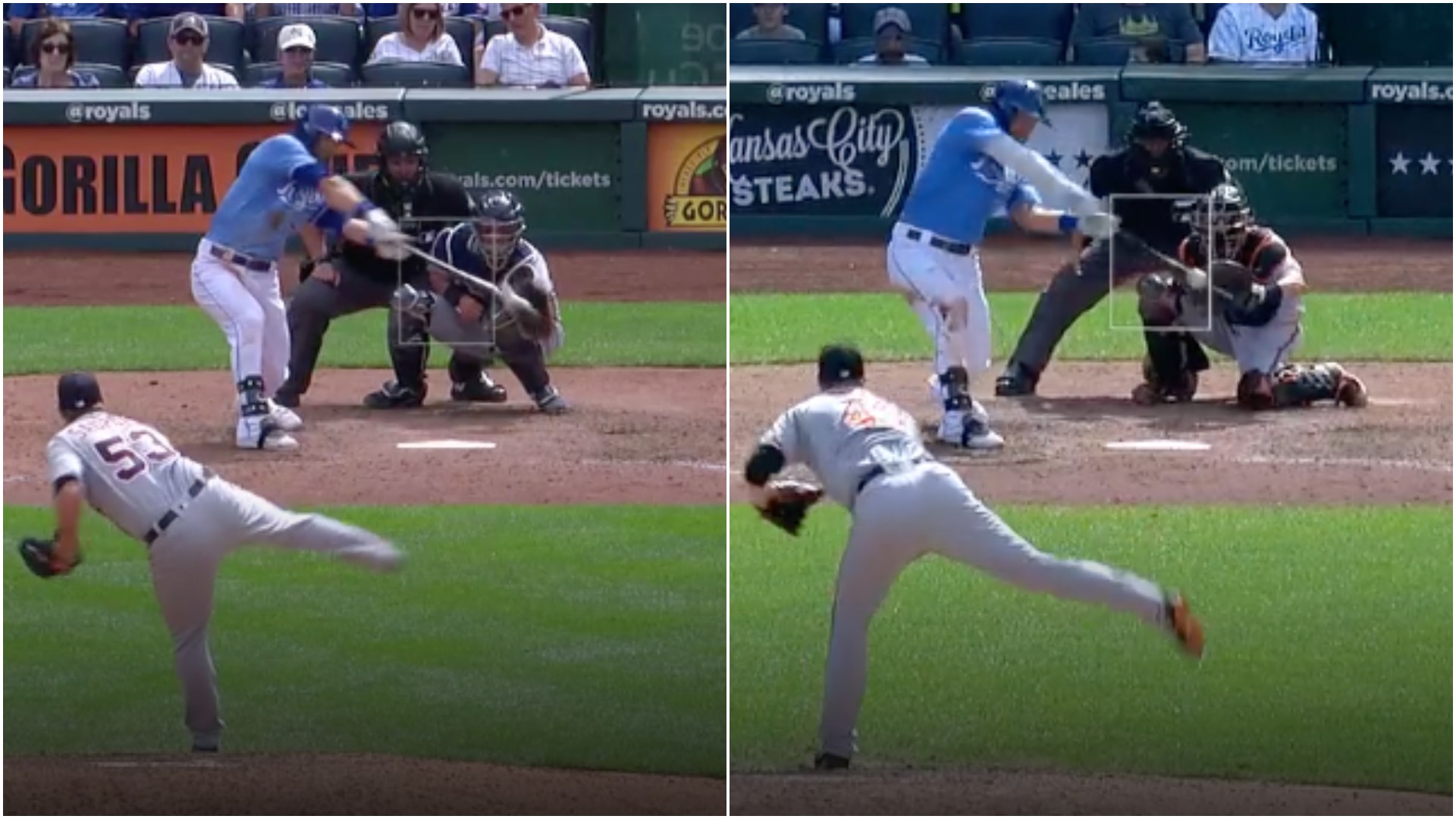 I'm no hitting expert, but Gordon said himself that his change has allowed him to "use [his] hands a lot better." To me, it looks like Gordon is able to generate more positive extension in the right image, whereas it looks like he's reaching a little bit on the left. Of course, this could be due to the nature of each of these two individual pitches. But, if you told me which position looks more conducive to hitting a baseball, I'd choose September 2 Gordon.
Now, throwing 2019 into the mix, it almost looks as if Gordon decided to stand up even more straight. May 3 is once again on the left, but now September 2 is in the middle, and April 12, 2019, is on the right.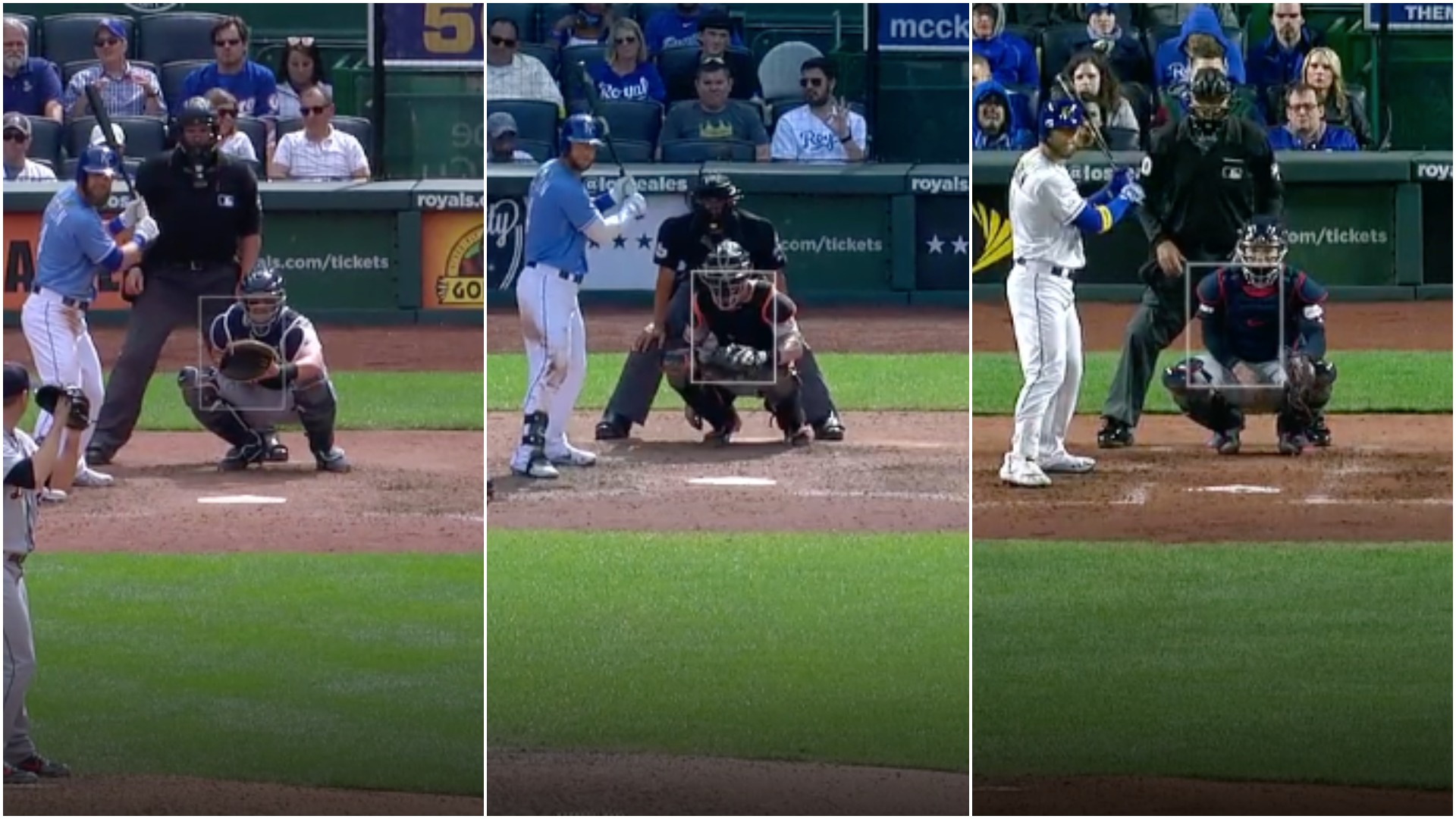 Clearly, Gordon has continued this trend into this season, and it has worked through mid-April. But, there's a second aspect to Gordon's recent improvement that I have yet to discuss: his approach.
Evaluating a change in approach is never easy, but, through 57 plate appearances, undoubtedly a small sample, Gordon has more walks than strikeouts, something he has never accomplished over a full season in his career. In fact, Gordon has rarely ever had even a 13-game streak of more walks than strikeouts:
Granted, it's still early, but Gordon is hitting everything. His 85.4% contact rate ranks 24th among 192 qualified hitters, but what's even more wild is that he's actually increased his contact rate by 8.5 percentage points over the past year, ranking eighth out of 378 hitters with 15 or more plate appearances this year and 400 total since 2018.
Gordon's swing rate hasn't changed much, but he has stopped swinging at pitches outside the zone at the same frequency. His o-swing rate of 21.1% is 24th-lowest in baseball, and his 8.6-percentage point drop on the stat represents one of the best improvements in the league.
This, combined with the third-highest increase in swing rate on pitches inside the zone, indicates that Gordon is seeing the ball incredibly well. He is laying off more of the bad pitches, swinging at the good ones, and because of his change in stance, he's posted a 42.9% hard-hit rate that would represent a career-high. At the age of 35, Gordon has seemingly altered both his approach and his stance, leading to an early resurgence.
It's really hard to know whether something like this is sustainable over the course of a full season; that's always one of the biggest issues with early-season baseball analysis. But, with what we've seen so far, Royals fans can't complain about what Alex Gordon has done early this season. He's somehow managed to reinvent himself, turning into an elite hitter, at least for the time being. As for whether this can be continued, we will just have to wait and see.