The 10 best QB prospects in the 2019 NFL Draft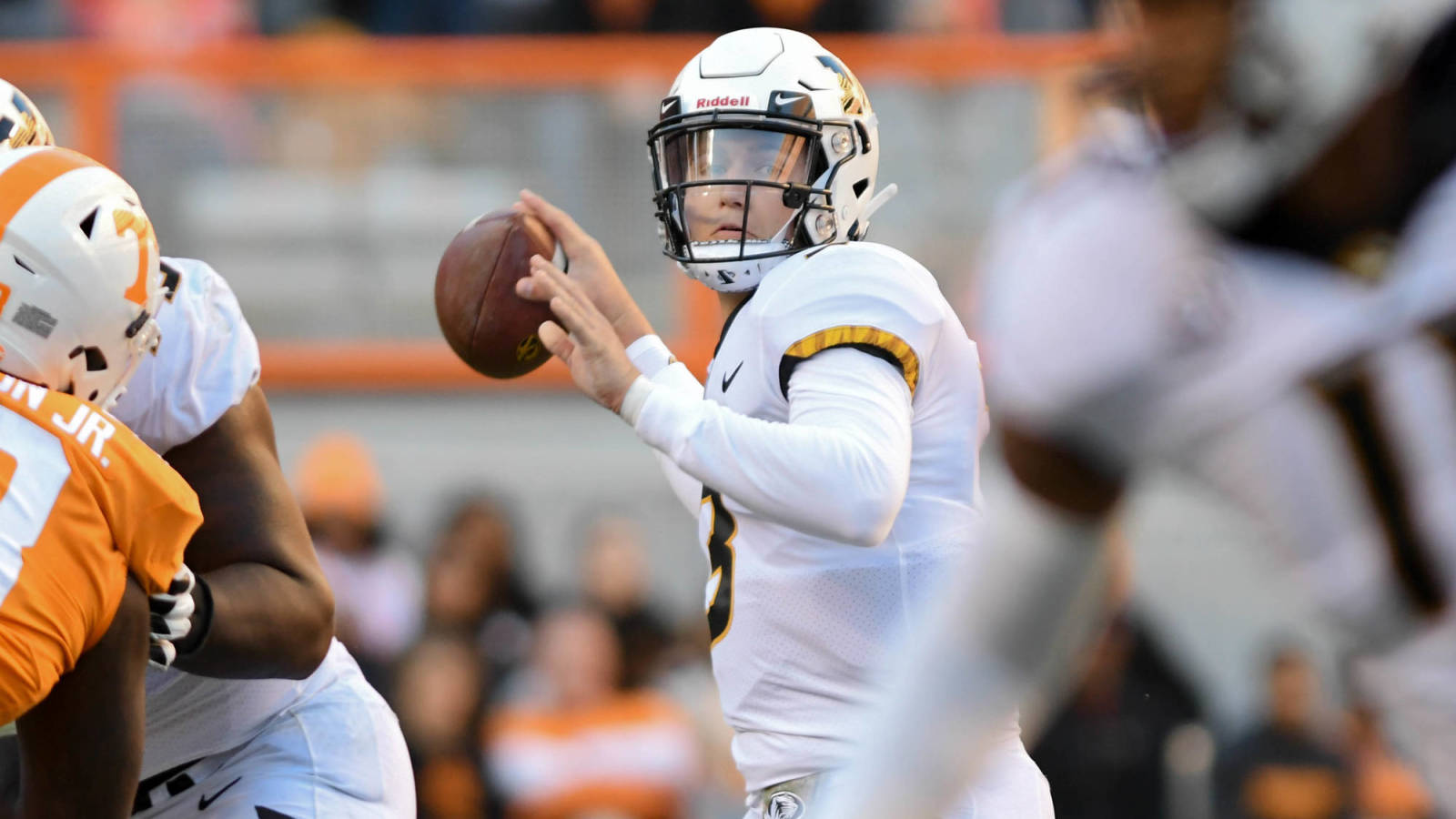 The 2019 NFL draft quarterback class certainly isn't the best we've seen recently, but it does have some likely strong next-level players. Here's a look at the top 10 best prospects from the class.
1. Dwayne Haskins, Ohio State
Haskins started only one year in college, but it was a year to remember. He showed terrific accuracy, completing 70 percent of his passes and gaining 9.1 yards per attempt. Haskins has the arm strength to make all of the NFL throws and really didn't have any bad games last season. While Kyler Murray is expected to be the first quarterback selected in the draft, Haskins is likely to have a longer career given his skill set.
2. Kyler Murray, Oklahoma
Murray is an otherworldly athlete who was selected ninth overall by the Oakland A's in last year's MLB draft before he did much of anything as a quarterback at the college level. Replacing Baker Mayfield at Oklahoma, Murray won the Heisman Trophy, showing a rare combination of great accuracy (69.0 percent completion rate) and mobility (1,001 yards rushing). Arizona Cardinals head coach Kliff Kingsbury is betting that athleticism can spark his team immediately as the likely No. 1 overall draft choice, though Murray's lack of size (5-foot-10) adds questions about his ability to throw in the NFL as well as his durability and longevity.
3. Drew Lock, Missouri
Lock was Missouri's regular starter over the last three seasons and made significant progress each year. He throws a beautiful deep ball and saw his completion rate increase from 49.0 percent his freshman year to 62.9 percent in his senior season. There are questions about Lock's ability to read defenses and make accurate shorter throws, but he certainly has the arm strength to fit the ball into tight windows. He's likely to have his name called in the top 10 picks of the draft but could need some time to develop.
4. Will Grier, West Virginia
Grier always made his team significantly better in college, whether that was at Florida or West Virginia. His accuracy should be an enticing feature, finishing his career completing 65.7 percent of his passes for 9.1 yards per attempt. He lacks the mobility that teams are searching for in the current era of quarterbacks, but the college production is undeniable. Grier has a chance to be a nice value in the late first or early second round.
5. Jarrett Stidham, Auburn
Stidham has been successful in multiple and differing college offenses at Baylor and Auburn. His completion rate fell to only 60.7 percent last year, but Stidham still has a strong and accurate arm. He created some buzz during the Senior Bowl and is likely a second-day pick at this year's draft.
6. Daniel Jones, Duke
The potential outweighs the college results for teams envisioning Jones as a first-round pick this year. He didn't have great production in three seasons as a starter at Duke, completing 59.9 percent of his passes for only 6.4 yards per attempt. However, Blue Devils head coach David Cutcliffe has a history of developing NFL quarterbacks, including Peyton Manning, and the hope is that Jones' smarts will allow him to step onto the NFL field quickly.
7. Ryan Finley, NC State
Finley really made nice progress at NC State over the last three seasons. His completion rate increased from 60.4 percent in 2016 to 67.4 percent last year, and he has above-average NFL arm strength. It remains to be seen if Finley has starter potential in the NFL, but he will likely be taken in the second day of the draft as a developmental prospect.
8. Tyree Jackson, Buffalo
There were rumors Jackson was going to transfer from Buffalo after last season, but the strong-armed quarterback opted to enter the draft instead. He has the physical tools to make scouts salivate, with arguably the strongest arm in this year's draft and also above-average mobility. However, his accuracy is well below average, completing only 55.3 percent of his passes last season. It'll be a long road for Jackson to develop into a viable NFL quarterback, but the potential could allow him to be drafted as early as the third round.
9. Gardner Minshew, Washington State
Minshew is getting draft consideration because of his production in Mike Leach's Air Raid offense, throwing for nearly 4,800 yards last season after transferring from East Carolina. With the exception of Patrick Mahomes, quarterbacks from that system haven't found much success at the next level. But Minshew does show an accuracy on short throws, completing more than 70 percent of his passes last season. He profiles as a late-round pick and potential NFL backup.
10. Brett Rypien, Boise State
The nephew of former NFL quarterback Mark Rypien, Brett was a productive four-year starter at Boise State. He showed NFL potential early in his career, but his stats dropped off over the last two years as the talent around him declined. He lacks the arm strength of an NFL quarterback, but his football IQ could make him a backup with some development.