Vladimir Guerrero's Other Heir
Javier Baez is not Vladimir Guerrero. Baez struggled before his breakout last season at 25; by that age, Guerrero had already established himself as one of the game's great players. Even including Baez's leap forward last year, Guerrero struck out about a third as often as Baez has and walked nearly twice as much. He had double the WAR though his age-25 season and 55 more homers. This isn't meant to denigrate Baez. Vladimir Guerrero was a young star on the way to the Hall of Fame while Baez is an exciting young player with one really good season and some unique, dazzling skills. What brings the two players together is a swing Baez made on Monday against Jameson Taillon and the Pirates.
Javier Baez swung at a bad pitch, a pitch so bad the ball bounced in front of the plate, but he made contact, and the ball made its way to the outfield. Baez reached base with a single. Here's another view a little bit closer:
Here's one from the side:
That at-bat is reminiscent of one Vladimir Guerrero had while he was with the Angels, as seen below:
For comparison, here's a side view:
Guerrero gets a little cleaner bounce, but the results are the same. You know who else noticed the similarity?
Guerrero credited his ability to hit a pitch like this to plaquita, a game played in the Dominican Republic. Let's listen to Guerrero talk about the hit above, and how he developed those skills.
There's another video here explaining the sport, but it is more like cricket than baseball, and the ball is often hit on the bounce. Jose Ramirez has talked about playing plaquita when he was younger, as well as another baseball variant, vitilla, which is played more like baseball but with thin bats and round, puck-like discs. It isn't clear if Baez played similar games growing up in Puerto Rico, and whether playing games like these can enhance a player's muscle memory and help to create at-bats like the one Baez took is probably up for debate, but what is clear, is that Baez chases balls out of the strike zone a lot more than most players do. The graph below shows the percentage of pitches a batter chases out of the zone (O-Swing) as well as the contact made when a batter does swing at a pitch outside the zone (O-Contact).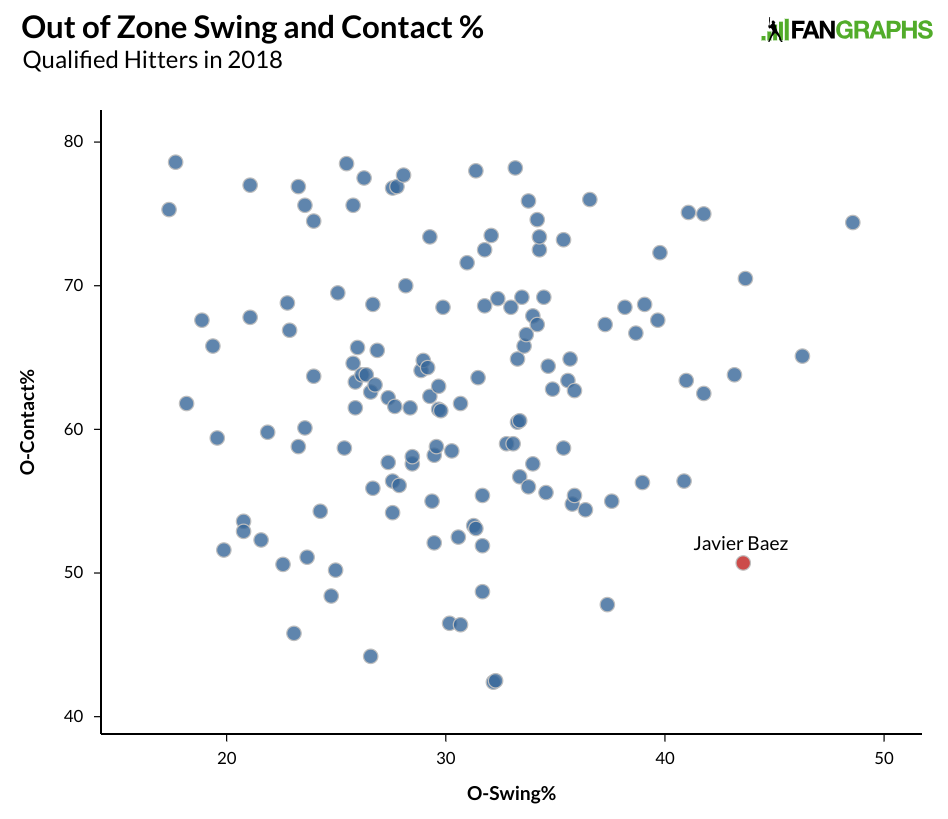 Baez occupies the worst of both worlds by swinging a lot at pitches outside the zone, and not making a lot of contact when he does. Because of Baez's wild swings and occasional bad ball homers, it might be easy to think that he is good on pitches outside the strike zone, but he isn't really. What makes Baez successful is that all of those wild swings outside the strike zone come with a lot of hard swings in the strike zone, and when he makes contact in the strike zone, he does a ton of damage. His .514 xwOBA on contact for pitches in the strike zone was ninth out of the 232 batters with at least 200 balls in play on pitches in the strike zone a year ago. His .338 xwOBA on contact on pitches outside the strike zone is still well above league-average, but once you factor in strikeouts and potential walks on pitches outside the strike zone, Baez's .238 xwOBA makes him one of the worst hitters in the league outside the zone, though he makes up for it by crushing pitches in the strike zone.
It's that free-swinging that makes Monday's play possible, but I thought I'd investigate just how rare a play like that might be. A quick Google search will show this bounced ball hit by Corey Dickerson for a double.
And of course, there's the Vlad play from above. But I thought it might be worthwhile to dig into the Statcast data a little bit based on where the ball was pitched and see how often batters even made contact. I approximated the position of the pitch by going at least two feet below the center of the plate and at least one foot outside the center of the plate for right-handed batters. So far this season, there have been 433 such pitches, 31 foolhardy swings with 30 whiffs, and Baez's one hit. I went back two more seasons and this is what I found.
What Happens to Pitches Like Baez's Bounced Hit?
| Year | Pitches | Swings | Whiffs | Contact | Balls in Play | Hits |
| --- | --- | --- | --- | --- | --- | --- |
| 2019 | 433 | 31 | 30 | 1 | 1 | 1 |
| 2018 | 5569 | 300 | 298 | 2 | 0 | 0 |
| 2017 | 5362 | 259 | 256 | 3 | 0 | 0 |
| Total | 11364 | 587 | 581 | 6 | 1 | 1 |
SOURCE: Baseball Savant
As one might expect, these pitches don't elicit a ton of swings, with just 5% of the offerings netting attempts. In nearly 600 attempted swings since the beginning of 2017, Baez is the only batter to put a ball in play, with just a handful of foul balls. I went back a few more years to 2013, and found only three balls in play on pitches that far outside the strike zone. Matt Holliday hit one off the Cubs back in 2015, Jean Segura had one back in 2013, and Adonis Garcia hit this one in 2014.
I wasn't able to nail down video of Holliday or Segura, but in terms of right-handed hitters, it's possible Baez's hit is one of just four like it in the last six-plus seasons. While Baez can't quite measure up to Guerrero in terms of production, when it comes playing a unique brand of baseball, it is easy to see why both players became fan favorites.