Dipoto On Mariners' Hot Start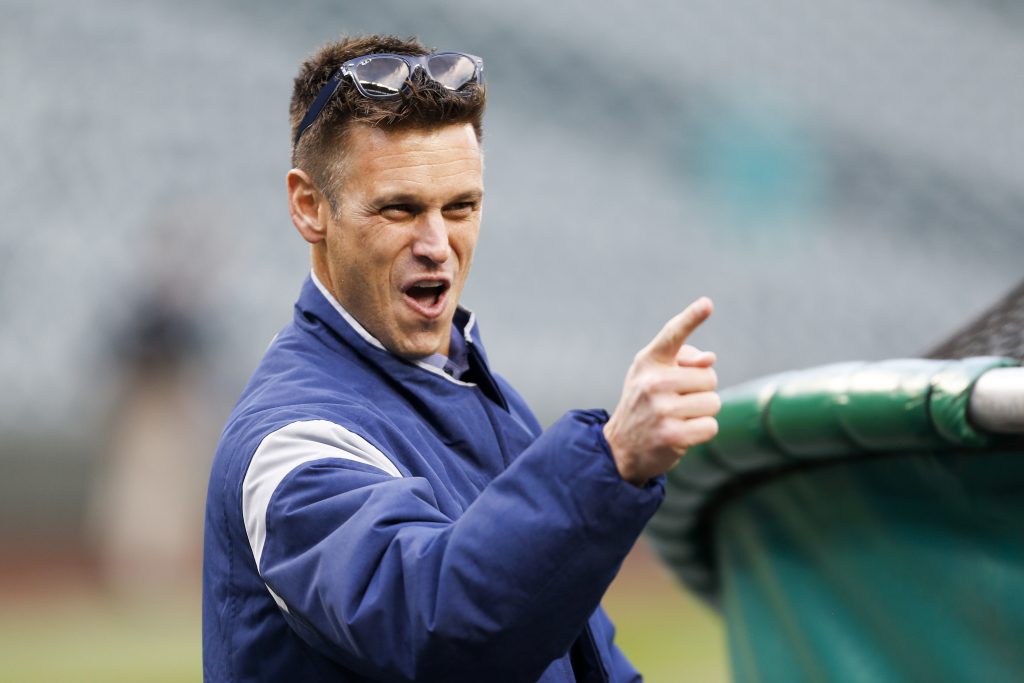 There are also guys hitting below, so it cancels out. Is Domingo Santana hitting above his potential? 1.047 OPS vs .875 OPS two years ago with everything comes together in his age 26 season? Maybe a little high on average, but there is trade off with Haniger about .150 OPS light on his potential offensive ceiling. Which says if Domingo falls off a little and Haniger picks it up, there is a wash there.
Encarnacion has put up .881-.941 OPS seasons in 6 straight years prior to last season where he had a .810 OPS year. So yeah an OPS of 1.090 is unsustainable, but he's also hitting about .50 points higher on his batting average than normal and has zero doubles. That trade off of less average and more doubles may indicate that he might be able to still run a .900 OPS this season.
Healy is hitting to a .943 OPS but his career best 3 years ago was an .861 OPS while playing in the Coliseum which stifles offenses. So is he going to keep leading the league in hitting? Who knows, but Bruce may have helped him like he did Vogelbach with good 'ol veteran leadership, something that wasn't very prevalent the last couple years in Seattle or Oakland.
Vogelbach is the big outlier and while he is playing above any reasonable level for even an inner-circle hall of famer, he does have the important markers you look for in a successful offensive player, patience, power, bat speed, and a successful history which includes a .923, .844, and .979 OPS for the last 3 years at AAA. Last year he walked 77 times to only 59 strikeouts while banging 20 HRs in a bout half a MLB season (84 games).
Let's also look back at the Mariners of 2001 and all they were was a crappy replacement for Griffey (Cameron .832 OPS), a tiny little asian guy (Ichiro .838 OPS), a one-time AS 1B (Olerud .873 OPS), a scrappy little 2B who had 1 AS and 1 GG season before being bounced to 4 teams in 4 years (Boone .950 OPS), an over the hill DH (Martinez .966 OPS), and four below average regulars (Wilson, Martin, Bell, and Guillen). Yet they scored 927 runs and averaged 5.72 runs/game.
Now comparing the two teams, the starters are probably better now than the starters that season, Gonzales and Moyer, Leake and Garcia, Kikuchi and Sele, Leblanc and Halama, with Hernandez and Abbott rounding out the top 5 and Swanson/Sheffield in AAA being the equivalent of Pineiro and Stark.
The bullpen was much better in 2001, but Swarzak could be our Sasaki, Elias could be the lefty setup guy like Rhodes, Brennan could be the Nelson, and Festa could be the Paniagua. The 2001 Mariners had Norm Charlton, so the current Mariners would need to get a situational lefty, however there are less left-handed hitters in baseball that require a specialist: Bellinger, Yelich, Harper, Cano, Carpenter, Gregorius, and Freeman with guys like Gennett, Brantley, Votto, Peralta, Shaw, Schwarber, and Rosario if you want to stretch it, but this list pales in comparison to the sluggers of 2001. We live in a world with right-handed studs, so a second lefty reliever may be less necessary.
As compared to 2001 having Griffey, Bonds, Giambi, Thome, Walker, Gonzalez, Helton, Berkman, Green, Floyd, Edmonds, Chavez, Giles, Coskie, Abreu, Klesko, Palmeiro, Delgado, and McGriff (through first two pages of Fangraphs).
So in conclusion, maybe they aren't exactly who they will end up being at the end of the season, but they are definitely a talented group that brings the best out of each other.