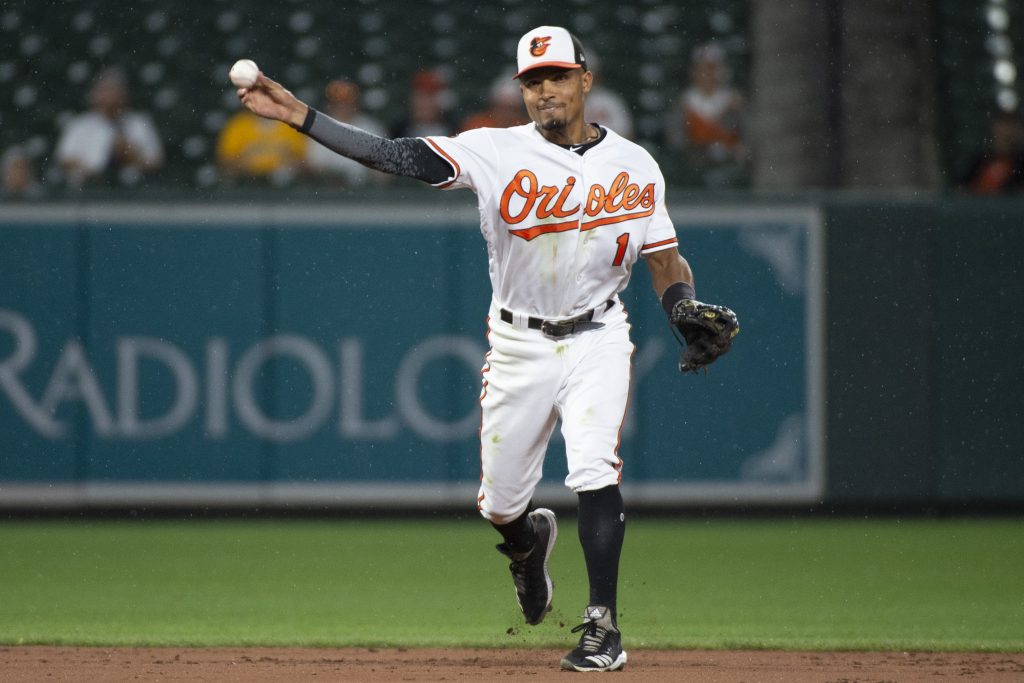 Let's check in on the players chosen in the 2018 Rule 5 draft …
Still On MLB Roster
Richie Martin, SS: The first overall selection, moving from the Athletics to the Orioles, Martin is about as intriguing a future asset as we see available in the Rule 5 these days. He has been overmatched early, with a rough showing in camp and 11 strikeouts in his first 26 MLB plate appearances. But the O's seem all but certain to hang tight and achieve permanent rights over the 24-year-old shortstop.
Reed Garrett, RHP: The Tigers provided Garrett plenty of innings this spring and saw him cough up eight walks to go with 11 strikeouts in 11 1/3 innings. But they liked the upper nineties heat, which Garrett combines primarily with a cutter. He's through two clean outings in the majors and seems likely at least to receive a long look — if he's ever offered back to the Rangers at all.
Travis Bergen, LHP: The Giants were another club with eyes for the Rule 5 this year. They've cycled through a few players but only Bergen remains on the 40-man. He'll be kept from the Blue Jays unless he stumbles. The results so far have been quite encouraging. Bergen was strong this spring and has been thrown right into the mix early, handling himself well in five appearances thus far.
Elvis Luciano, RHP: One of the more surprising Rule 5 decisions this spring involved Luciano, a high-powered but raw hurler who was snagged from the Royals by the Blue Jays. Luciano turned 19 at the outset of camp and looked every bit his age in spring action. But the talent proved too tantalizing to resist for the Toronto organization. That could still change, but this has all the makings of a situation where a non-contender is determined to keep a Rule 5 player it really likes.
Kyle Dowdy, RHP: A 26-year-old left unprotected by the pitching-rich Indians, Dowdy had a marginal spring performance that left the contending Mets unwilling to hang onto him. But the Rangers were there to scoop him up. The numbers have never really jumped off the page for Dowdy, but the Texas organization will see if his varied pitch mix can work in a pen role — with the idea that he could ultimately also represent a rotation depth piece.
Brandon Brennan, RHP: When the Mariners were snubbed by Brennan, who signed a minors deal with the Rockies early in the offseason, they just shrugged their shoulders and grabbed him in the Rule 5. The 27-year-old has already thrown 6 2/3 innings over five appearances, putting up blanks on the scoreboard while recording seven strikeouts against just one walk.
Injured List
Riley Ferrell, RHP: The Marlins were set to give the former Astros third-round pick a look in hopes that he'd finally tamp down on his walk issues and capitalize on his high-K arm. Biceps soreness drove Ferrell to the injured list, an injury that may ultimately make it somewhat easier for the Miami organization to hold onto his rights while limiting his immediate MLB exposure.
DFA Limbo
Connor Joe, INF/OF: Picked by the Reds, then acquired by the Giants, Joe got a look to begin the year in San Francisco. But he managed only one hit in 16 plate appearances and was cast off of the 40-man roster to make way for Tyler Austin. Joe will now be offered back to the Dodgers if he clears waivers.
Chris Ellis, RHP: Plucked from the Cardinals, Ellis moved from the Rangers to the Royals on Rule 5 draft day. He hung on through Opening Day and got his first taste of MLB action, but lost his roster spot thereafter. The Royals evidently liked what they saw from Ellis, so it's possible they'll try to retain him if he clears waivers.
Drew Jackson, INF: Another draft-day mover, Jackson was selected by the Phillies from the Dodgers and was promptly shipped to the Orioles for international draft bonus capacity. A power burst last year at Double-A created enough intrigue for Jackson to hang on through Opening Day, but he was moved off the 40-man early on and will be offered back to Los Angeles unless he's claimed by another club.
Returned
Sam McWilliams, RHP: The second overall selection didn't last with the Royals, who sent him back to the Rays after an exceedingly rough showing in camp (eight earned runs, 2:6 K/BB ratio in 4 2/3 innings).
Jordan Romano, RHP: Another player that had a look with the Rangers, Romano was dealt to the Texas org by the White Sox after being selected from the Blue Jays. He had solid numbers last year at Triple-A but obviously didn't impress the Rangers' brass in camp, when he worked to a 3.86 ERA with six strikeouts and five walks in 9 1/3 frames.
Nick Green, RHP: The Diamondbacks sent Green back to the Yankees after watching the 24-year-old struggle through 13 1/3 innings in camp (11 walks vs. 8 strikeouts).