Jacob deGrom is Picking Up Where He Left Off
Jacob deGrom's 2018 will go down in history as one of the best pitching seasons of all time. There's almost no way it couldn't — pitchers don't put up sub-two ERAs very often, and they record sub-2 FIPs even less frequently. By those stats alone, deGrom had the seventh-best ERA and eighth-best FIP since integration. Adjust for the run-scoring environment, and he falls all the way to ninth. Simply put, deGrom was sublime in 2018.
After a season of such historic magnitude, we'd be crazy to not expect regression. Everything broke so well for deGrom in 2018 that he could pitch every bit as well in 2019 and end up with meaningfully worse results. Indeed, ZiPS and Steamer both projected deGrom's ERA to increase by essentially a run this season. Despite that, both projected him to put up the second-best ERA and FIP among starters, behind only Chris Sale. When you're as far ahead of the pack as deGrom, you can significantly regress and still be one of the best.
It isn't just projection systems that peg deGrom to come back to earth — the broad sweep of history suggests it as well. No matter how you slice it, pitchers who record a season like deGrom's decline the next year. Want to focus on ERA? There have been 26 times since 1947 when a pitcher qualified for the ERA title and had an ERA below two. Excluding 2018 deGrom and 1966 Sandy Koufax (he retired after 1966 and so didn't have a next season), these pitchers averaged a 1.77 ERA. The next year, they recorded a 2.78 ERA.
Maybe FIP is more your speed. The top 25 single-season FIP performances since integration were pretty impressive — they produced a 2.01 FIP and 2.11 ERA on average (again leaving out deGrom last year and 1966 Koufax). The next year? That same group of pitchers recorded a 2.64 FIP and a 2.57 ERA. These second seasons were excellent pretty much across the board, and were still almost always worse than the year that preceded them. Take a look at the pitchers who recorded top 25 seasons in both FIP and ERA — the best of the best, if you will. These are the pitching seasons you probably think of as among the greatest of all time:
The Best Pitching Seasons, 1947-Present
Again, there's nothing crazy about this. A 2.66 ERA is still amazing — it's hard to expect more than that from anyone. Heck, before last year, deGrom only had a single season with an ERA below 2.66 — his 2.54 campaign in 2015. If you asked Mets fans whether they'd accept a 2.66 ERA from deGrom this year, they'd likely take you up on the offer. Expecting more would probably just be greedy.
This extended introduction was just a setup, though. Jacob deGrom has made two starts so far this year, and he's been perfect. Fine, not literally perfect — but not far from it. He has a 0.00 ERA, but plenty of pitchers have managed that through two starts. Fine, not plenty — four, but who's counting? Close your eyes, and you can see a perfect ERA through two starts without dominant pitching. Runners stranded left and right, maybe a dramatic play at the plate to save a run — it's not easy, but it could happen. That's not how deGrom's season has gone, though.
Over his two starts, deGrom has faced 48 batters. 24 of them struck out; two walked. That's good for the major league lead in strikeouts as well as the best strikeout rate of any starter. It's not as though the deep counts he's running in recording all these strikeouts are inflating his walk rate, either — his 4.2% walk rate would be the lowest of his career. This otherworldly combination of strikeouts and walks (and, of course, the lack of home runs allowed) leads to a starting-pitcher-best -0.28 FIP. And if you don't like the concept of negative FIPs, I guess there's little humor in your life, because they're amazing.
How has deGrom done it? Historically, he's thrown five pitches: two fastballs, a slider, a curveball, and a changeup. One of the big adjustments deGrom made in his superlative 2018 was cutting the number of two-seamers and curveballs he threw in favor of sliders and changeups. The two-seamer in particular was probably his worst pitch, so the change made perfect sense. In 2019, he's doubled down on these trends. Out of the 207 pitches he's thrown so far, Baseball Savant counts only seven two-seamers, while Pitch Info and Brooks Baseball count zero. I'm inclined to believe it's zero, based on the spin and movement on those seven dual-classified pitches. In essence, then, deGrom has scrapped the worst pitch in his arsenal and replaced it with potentially his best, his four-seam fastball.
That four-seam, rising fastball is an absolute masterpiece of a pitch. The combination of bullpen-level velocity and Maddux-level command is lethal. The pitch produced the third-highest swinging strike rate in the majors in 2018 (behind the two best relievers by that measure, Josh Hader and Sean Doolittle), and batters didn't fare much better even when they managed to make contact, producing a wOBA of .328 (10th-best in baseball among pitchers with 100 fastballs put in play last year, and substantially lower than the league average of .392). Even if deGrom simply cut all his two-seam fastballs for four-seamers, that would be an exciting development.
The fastball switch isn't the only change deGrom has made, however. He's always thrown a hard, Warthen-style slider, but he's taken it to new extremes this year, turning the pitch into an ersatz cutter — its horizontal break has decreased almost an inch from last year, and its positive vertical break is near a career high. At the same time, he's throwing it as hard as he ever has — he's averaging a wait-I-thought-you-said-this-was-a-breaking-ball-but-that's-too-fast 92.8 mph on the pitch this year, and touched 95 a few times in his most recent start. When Noah Syndergaard was hitting 90+ with his slider, it was scary enough, but deGrom is doing it with impeccable command and two other plus secondary pitches. It's simply stunning to see how well he's painting the corner with such preposterous velo: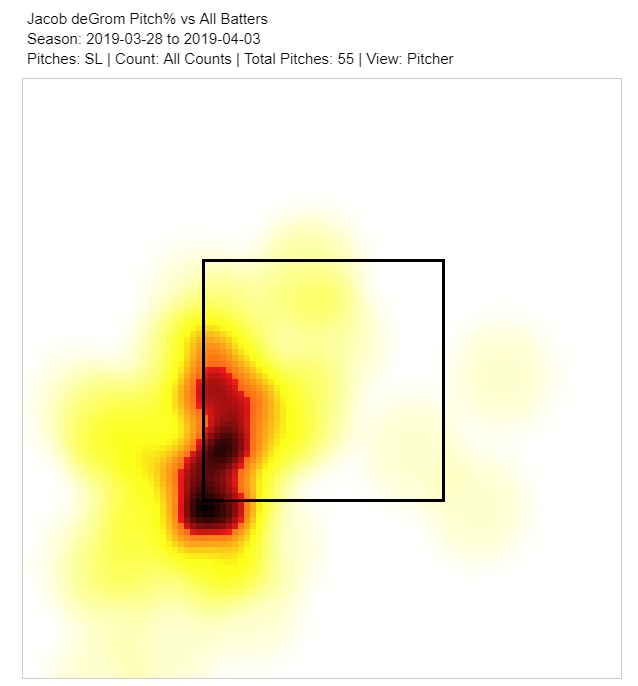 Those two pitches alone would make deGrom one of the best pitchers in baseball, but he's also dialed his changeup up to a new gear this year. While changeups are always tough to analyze, deGrom's has changed in some noticeable and likely beneficial ways. First, it's lost vertical break and gained horizontal break, giving it further separation from his other pitches. Second, he's throwing the pitch in the strike zone more frequently, 57% of the time so far in 2019 vs 48% last year and 45% for his career. Given how effectively the pitch plays off his other offerings, locating it in the zone forces hitters to take action, and it's generating whiffs like never before. Take a look at this filth:
All of these little tweaks, to my eye, make deGrom look even more indomitable in 2019 than he did last year. Let's be realists, though — pessimists, even. Let's say that deGrom's blistering start to 2019 is just a sample size fluke, that he's really no different than the projections, aside from these two games. These first two games have been so phenomenal that they'd move his projected full-season line substantially even then. Before the season, Depth Charts projected a 2.85 ERA and 2.83 FIP, with a 29% strikeout rate and 5.9% walk rate. We've seen two starts, and even if he replicates his preseason projections the rest of the way, that works out to a full-season line of 2.68 ERA, 2.64 FIP, 30% strikeout rate, and 5.8% walk rate. That, again, is after two starts.
Nothing seemed weird about those starts — deGrom was his normal, dominant self, and it didn't exactly feel like he was getting unsustainably lucky. It's hard to think that deGrom needs any luck when he's striking out half the guys he faces. Still, think about it. Two starts, 20 points of season-long ERA improvement. What if he goes out and has two more starts like these? How long before you update your priors and say maybe, just maybe, deGrom is doing something new and better, beating the regression gremlin by evolving?
Even before the year, deGrom was projected to be certifiably ridiculous. His median — median! — performance would be one of the best 15 pitching lines of the last five years. A measly two starts into the season, though, it might be time to rethink what we know about following one great year up with another. Pitchers fall off the year after they're great. It's natural. It's inevitable. But what if this one time, though, it wasn't? Could deGrom do what almost no one else has done and repeat his unbelievable 2018? It may be the most compelling question in all of baseball this year.